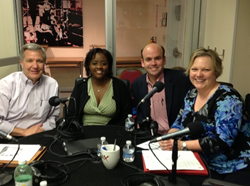 it's amazing how many people don't reach out and who end up feeling isolated and alone
Atlanta, GA (PRWEB) April 29, 2013
On Tuesday April 23rd, 2013, Elizabeth Gordon, host of Results Matter radio on Business RadioX® and Burr & Forman Partner Jim McCarten were joined in-studio by David Glass with Glass Financial Group, Donna Johnson, the Coordinator of the Georgia Autism Statewide Plan at the Center for Leadership in Disability, and J-Jaye Hurley, the Autism Response Team Coordinator for the southeast region of Autism Speaks to talk about financial planning, early detection and available therapies for families dealing with autism.
Each member of the panel openly shared their personal experiences as parents of a child with autism or a disability in order to help listeners who have had a child diagnosed, or think they may need to take their child in for screening.
Donna Johnson noted that 1 in 84 children in Georgia have been diagnosed as being on the autistic spectrum and said that early detection is key. She, along with the other panelists also discussed the importance of the transition from childhood and family services to adult services for autism.
J-Hay Hurley encouraged families who have gotten an autism diagnosis to get the 100 Day Kit from the Autism Speaks website and said that often people in the more rural areas of Georgia don't have a lot of guidance or local resources.
Jim McCarten discussed the later diagnosis his family experienced and encourage families to join support groups and take advantage of programs resources. He added, "it's amazing how many people don't reach out and who end up feeling isolated and alone". He continued by noting how helpful it is to reach out and connect with others who have shared experiences.
David Glass joined the discussion to talk about the need for financial planning for the childhood years, but also into adulthood as many on the autism spectrum will need services throughout their lives. The panel agreed and also discussed the need for parents of autistic children to have a solid plan in place for care after their own deaths.
To learn more about autism and the guests and organizations featured, listen to the complete interview on the Results Matter Radio page for Business RadioX®
About Burr & Forman's Results Matter Radio
http://resultsmatterradio.businessradiox.com/
Results Matter Radio brings you pertinent business information and real life solutions to help drive desired results – whatever your business may be. We interview Business Leaders and Trusted Advisors about the most important issues in Commercial Real Estate, International Commerce, Healthcare, Family Business, Corporate Litigation, Finance, Philanthropy, Estate Planning, and more.
About Business RadioX® :
Business RadioX® provides a turnkey solution for business owners who want to leverage the power of internet radio to meet their best prospects, establish credibility for their organization and heighten the placement of their brand in search engines rankings. With a professional venue and a proven formula, Business RadioX® helps hosts podcast their shows and create a regular stream of dynamic content to share with their prospects and feed the search engines every week. Programs are recorded and streamed live to the internet from our studios in the greater Atlanta area. For more information or to hear a live show, visit: http://www.businessradiox.com.
###