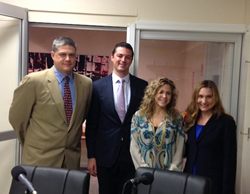 Members of the group helped address challenges with growth and development in the city of Americus, Georgia.
Atlanta, GA (PRWEB) May 13, 2013
On Tuesday May 7th, 2013, Elizabeth Gordon, host of Results Matter radio on Business RadioX® was joined in-studio by Joe Massaroni, Atlanta Chapter President of the Commercial Finance Association, Amir Farokhi, Executive Director of Georgia Forward and Ashley Meggitt a member of the 2013 Young Gamechangers for Georgia Forward.
Joe shared information about the Commercial Finance Association, its origins, and its plans for the future. Amir and Ashley discussed Georgia Forward and specifically the Young Gamechangers program and its work with the city of Americus.
In addition to his work as Atlanta Chapter President of the Commercial Finance Association, Joe Massaroni is a Director in SunTrust Robinson Humphrey's Asset Based Lending (ABL) Group, working as a Portfolio Manager. He has over 20 years of experience in Asset Based Lending working for Key Bank, Wells Fargo and SunTrust primarily and has worked in many capacities including field exam, management, underwriting, portfolio management and business development.
The Commercial Finance Association is the international trade association dedicated to the asset based lending and factoring industries. Founded in 1944, the CFA has nearly 300 member companies and 16 chapters throughout the United States, Mexico and Canada. CFA members include a diverse collection of lending institutions that range from international banks to independent entrepreneurial finance companies. CFA offers several publications, including the Secured Lender, a bi-monthly magazine devoted exclusively to the asset based financial services industry.
Amir Faroki is the Executive Director of GeorgiaForward, an independent, non-partisan organization working to improve the state of Georgia by engaging business, political, academic and civil leaders to collaboratively shape a statewide policy agenda. GeorgiaForward works to bring leaders together to articulate a common vision for the state, respective of regional strengths and needs and focused on smart, bold actions.
Ashley Meggitt works for the Georgia Municipal Association (GMA) helping to develop and advocate for, environment and natural resources policies of vital interest to municipalities in Georgia. By engaging members of the Georgia General Assembly and the Executive Branch Ashley helps to shape public policy. Ashley is also a member of the 2012-2013 Young Gamechangers with GeorgiaForward where she worked with other members of the group to help address challenges with growth and development in the town of Americus, Georgia.
To learn more about the organizations and guests featured, listen to the complete interview on the Results Matter Radio page for Business RadioX®
About Burr & Forman's Results Matter Radio
http://resultsmatterradio.businessradiox.com/
Results Matter Radio brings you pertinent business information and real life solutions to help drive desired results – whatever your business may be. We interview Business Leaders and Trusted Advisors about the most important issues in Commercial Real Estate, International Commerce, Healthcare, Family Business, Corporate Litigation, Finance, Philanthropy, Estate Planning, and more.
About Business RadioX® :
Business RadioX® provides a turnkey solution for business owners who want to leverage the power of internet radio to meet their best prospects, establish credibility for their organization and heighten the placement of their brand in search engines rankings. With a professional venue and a proven formula, Business RadioX® helps hosts podcast their shows and create a regular stream of dynamic content to share with their prospects and feed the search engines every week. Programs are recorded and streamed live to the internet from our studios in the greater Atlanta area. For more information or to hear a live show, visit: http://www.businessradiox.com.
###