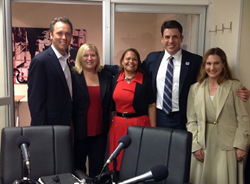 WIT Connect is a unique, auction-style fundraiser where companies come to network and bid on quality time with Georgia's top technology executives, mostly from the C-suite.
Atlanta, GA (PRWEB) May 25, 2013
On Tuesday May 21st, 2013, Elizabeth Gordon, host of Results Matter radio on Business RadioX® and producer Dana Barrett, were joined in-studio by WIT Connect co-chairs Eric Pearson (CIO of Intercontinental Hotels Group) and Betsy Robinson (partner at jobTopia) along with Jay Ferro, CIO of the American Cancer Society and Vicki Hamilton, Senior IT/Operations Executive with The Wright Answer to talk about WIT Connect.
The 19th Annual WIT Connect will be held on June 13, 2013 at the Georgia Aquarium. WIT Connect is a unique, auction-style fundraiser where companies come to network and bid on quality time with Georgia's top technology executives, mostly from the C-suite. More than $1.8 million has been raised since 2007, and proceeds from the event fund Women in Technology(WIT) and WIT Foundation programs and initiatives.
The live auction at WIT Connect 2013 will feature meetings with multiple executives from four major Atlanta-based companies: American Cancer Society, Carter's, Intercontinental Hotels Group and SunTrust, while the silent auction will have meetings with multiple executives from many more Atlanta-based companies looking for technology vendors.
Eric Pearson, Chief Information Officer for IHG is accountable for all technology systems supporting IHG hotels and corporate offices globally. This includes the development and application of all global systems supporting our day-to-day business of driving top-line revenue.
Jay Ferro is CIO of the American Cancer Society, which is a nationwide, community-based voluntary health organization dedicated to eliminating cancer as a major health problem. Headquartered in Atlanta, Georgia, the ACS has 12 geographic Divisions, more than 900 local offices nationwide, and a presence in more than 5,100 communities.
Vicki Hamilton is a Senior IT / Operations Executive with The Wright Answer who comes up with new IT strategies to take care of old workplace problems. An award winning technology executive with over 20 years of senior level experience, Vicki's strategic, multidisciplinary competencies include conceptualizing, designing and executing innovative technology strategies for high value results ($20M+.)
Betsy Robinson is a Partner at jobTopia and serves as a Director of IT Services. She co-founded the Information Technology staffing division, and is responsible for new business development, building and expanding existing client relationships, recruiting strategy, managing high performing teams, strategic planning, sales support and wearing any hat that needs to be worn in a growing company.
Both Eric and Jay, who will be up for auction this year, talked about how they are inundated with vendors trying to get their time every day. Jay explained further saying, "Companies who bid at this auction are prepared. They know who you are and what you're working on and they make sure they have a product or service you can use before they spend money to get your time."
Vicki agreed noting, "Once the company has won the bid and has a lunch or a meeting set up with one of our sponsors, they come prepared." Betsy explains, "Companies spend thousands of dollars to get this time with these CIOs and they don't want to waste it."
The panel further explained that the event is a lot of fun, a great place to network and that while companies are laying out a lot of money at the auction, the money is going to a great cause which is promoting the advancement of women and girls entering and succeeding in the technology field.
To learn more about the organizations and guests featured, listen to the complete interview on the Results Matter Radio page for Business RadioX®
About Burr & Forman's Results Matter Radio
http://resultsmatterradio.businessradiox.com/
Results Matter Radio brings you pertinent business information and real life solutions to help drive desired results – whatever your business may be. We interview Business Leaders and Trusted Advisors about the most important issues in Commercial Real Estate, International Commerce, Healthcare, Family Business, Corporate Litigation, Finance, Philanthropy, Estate Planning, and more.
About Business RadioX® :
Business RadioX® provides a turnkey solution for business owners who want to leverage the power of internet radio to meet their best prospects, establish credibility for their organization and heighten the placement of their brand in search engines rankings. With a professional venue and a proven formula, Business RadioX® helps hosts podcast their shows and create a regular stream of dynamic content to share with their prospects and feed the search engines every week. Programs are recorded and streamed live to the internet from our studios in the greater Atlanta area.