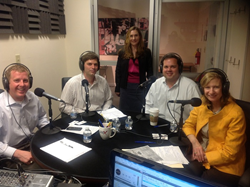 LawJam is not just a great fundraiser, but a fun event for the attorneys participating AND just a really good show for music lovers.
Atlanta, GA (PRWEB) June 01, 2013
On Tuesday May 28th, 2013, Elizabeth Gordon, host of Results Matter radio on Business RadioX® was joined in-studio by LawJam 2013 emcee Bert Reeves (GMHC360), organizer Sally Hogsette (Atlanta Bar Foundation), and performers/attorneys Brenton Hund (Turner Broadcasting) and Scott Hitch (Burr & Forman).
The fourth annual "LawJam: Battle of the Atlanta Lawyers' Bands" will be held on Saturday, June 8, 2013 at the Variety Playhouse. The event is a fundraiser for the Atlanta Bar Foundation, which is the charitable arm of the Atlanta Bar Association and showcases seven local bands competing for the title of the best Atlanta Lawyers' Band.
The foundation supports Atlanta Bar charitable projects that promote equal access to justice, assistance to youth and public understanding of the law. The Atlanta Bar Foundation also maintains an annual grant program to support Atlanta-area pro bono legal service providers serving low-income citizens in Atlanta.
Sally Hogsette who has retired from practicing law after a 30 year long career, is the Executive Director of the Atlanta Bar Foundation as well as a member of the Atlanta Bar Association. She discussed the LawJam event and noted that it is not just a great fundraiser for the foundation, but a fun event for the attorneys participating AND just a really good show for music lovers.
Bert Reeves, the shows emcee explained that in order for bands to participate they need to have at least one practicing attorney in their ranks. He added, "You would be surprised how many bands there are any Atlanta area that meet that qualification." He also explained the "American Idol" style of the competition complete with fewer votes and judges scoring.
Both Brenton and Scott added to the conversation talking about how wonderful it is to be able to play at the Variety Playhouse with professional sound and lighting and the full rock star treatment. They also discussed the impressive level of talent at the competition.
The group then had a lively conversation about the importance of music as an outlet for attorneys. They talked about using both sides of the brain and the creative and complex process of producing music.
Bert, Scott and Brenton all shared their musical backgrounds which were very varied. Brenton was actually a full-time musician, on the road touring with a band for eight years before deciding to get a law degree and begin practicing law. Bert and Scott, on the other hand, primarily played music all their lives, but never tried to make a career of it.
To learn more about LawJam 2013, listen to the complete interview on the Results Matter Radio page for Business RadioX®
About Burr & Forman's Results Matter Radio
http://resultsmatterradio.businessradiox.com/
Results Matter Radio brings you pertinent business information and real life solutions to help drive desired results – whatever your business may be. We interview Business Leaders and Trusted Advisors about the most important issues in Commercial Real Estate, International Commerce, Healthcare, Family Business, Corporate Litigation, Finance, Philanthropy, Estate Planning, and more.
About Business RadioX® :
Business RadioX® provides a turnkey solution for business owners who want to leverage the power of internet radio to meet their best prospects, establish credibility for their organization and heighten the placement of their brand in search engines rankings. With a professional venue and a proven formula, Business RadioX® helps hosts podcast their shows and create a regular stream of dynamic content to share with their prospects and feed the search engines every week. Programs are recorded and streamed live to the internet from our studios in the greater Atlanta area. For more information or to hear a live show, visit: http://www.businessradiox.com.
###