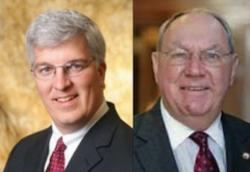 ...now a judge has the ability to revise an agreement if they feels it is too broad.
Atlanta, GA (PRWEB) May 08, 2012
On Monday April 30th Lee Kantor, co-host of Results Matter Radio led a spirited discussion about Georgia's new non-compete employment statute – House Bill 30. State Representative Wendell Willard, who represents the 49th District in the Georgia House of Representatives and is one of the co-sponsors of the statute, and Burr & Forman attorney William (Chip) Collins Jr joined Kantor in the studio.
Willard is one of the co-sponsors of the statute and Collins heads Burr & Forman's new non-compete and trade secrets group – he is also the editor of their new Non-Compete & Trade Secrets Law blog.
The statute became effective a year ago in May of 2011 and drastically changed the legal landscape for non-competes and nondisclosure agreements. In the past, courts in Georgia have had problems with those agreements, but this new statute puts Georgia more in line with all the other states. Under the new statue, courts have the authority to "blue pencil" agreements signed on or after May 11, 2011 rather than reject them outright based on one issue.
Collins says "this is a sea change...now a judge has the ability to revise an agreement if they feels it is too broad." Willard noted that "territory changes" are a good example of where the "blue penciling" could come into play.
To hear the interview in its entirety, go to the Results Matter Radio page for Atlanta Business RadioX™ or click:
http://resultsmatterradio.businessradiox.com/2012/04/30/noncompete/
About Burr & Forman's Results Matter Radio
http://resultsmatterradio.businessradiox.com/
Results Matter Radio brings you pertinent business information and real life solutions to help drive desired results – whatever your business may be. We interview Business Leaders and Trusted Advisors about the most important issues in Commercial Real Estate, International Commerce, Healthcare, Family Business, Corporate Litigation, Finance, Philanthropy, Estate Planning, and more.
About Burr & Forman LLP:
For more than a century, the experienced legal team at Burr & Forman, an Am Law 200 firm, has served clients with local, national, and international interests in numerous industry and practice areas, ranging from commercial litigation and class actions to corporate transactions, including bankruptcy and restructurings. A Southeast regional firm with nearly 250 attorneys and offices in Alabama, Florida, Georgia, Mississippi, and Tennessee, Burr & Forman attorneys draw from a diverse range of resources to help clients achieve their goals and address their complex legal needs. For more information, visit the firm's website at http://www.burr.com.
About Atlanta Business RadioX™:
Atlanta Business RadioX™ provides a turnkey solution for business owners who want to leverage the power of internet radio to meet their best prospects, establish credibility for their organization and heighten the placement of their brand in search engines rankings. With a professional venue and a proven formula, Atlanta Business RadioX™ helps hosts podcast their shows and create a regular stream of dynamic content to share with their prospects and feed the search engines every week. Programs are recorded and streamed live to the internet from our corporate offices in suburban Atlanta. For more information or to see a live show, visit: http://www.BusinessRadioX.com.
###