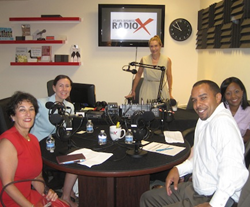 diversity makes good business sense
Atlanta, GA (PRWEB) September 04, 2012
On Tuesday August 28th, 2012, Elizabeth Gordon, host of Results Matter radio was joined in the downtown Atlanta studio by three recent Atlanta Business Chronicle | Association of Corporate Counsel award winning attorneys; Dorian Denburg from AT&T, Kali Wilson Beyah from Delta and H. Eric Hilton from HJ Russell & Co. along with Burr + Forman attorney Ashby Kent. The panel was brought together to discuss their experiences working "in-house" along with the importance of diversity and inclusion in the legal profession.
Dorian Denburg shared her history with AT&T and how diversity has become a core value there. She also talked about her involvement in NAWL (the National Association of Women Lawyers) and was joined by Kali Wilson Beyah from Delta who agreed that being a member of NAWL has been beneficial both personally and professionally. Beyah also talked about some of the local and national programming NAWL has and her own experiences at some of the events.
Eric Hilton of HJ Russell & Co. joined the discussion and added that "diversity makes good business sense". He noted that as "the oldest minority business enterprises in the country" his company is looking to do business with like minded firms.
All three in-house attorneys talked about the benefits of working with outside attorneys and Ashby Kent of Burr+Forman joined the discussion to discuss the up side of working with companies who have in-house attorneys versus those who don't.
When asked what "results matter" in their careers and personal lives, Denburg said that one of things that matters most to her is "seeing the success of people she mentors". Beyah agreed adding that the result that matters most in her work life is simply "winning" for her clients, but that personally she is gratified by both getting and giving good training. Hilton notes, "in our profession you don't get too many points for effort, so what matters IS the results."
To listen to the interview in its entirety, go to the Results Matter Radio page for Atlanta Business RadioX™ or click: http://resultsmatterradio.businessradiox.com/2012/08/28/atlanta-corporate-in-house-counsel-2/
About Burr & Forman's Results Matter Radio
http://resultsmatterradio.businessradiox.com/
Results Matter Radio brings you pertinent business information and real life solutions to help drive desired results – whatever your business may be. We interview Business Leaders and Trusted Advisors about the most important issues in Commercial Real Estate, International Commerce, Healthcare, Family Business, Corporate Litigation, Finance, Philanthropy, Estate Planning, and more.
About Atlanta Business RadioX™:
Atlanta Business RadioX™ provides a turnkey solution for business owners who want to leverage the power of internet radio to meet their best prospects, establish credibility for their organization and heighten the placement of their brand in search engines rankings. With a professional venue and a proven formula, Atlanta Business RadioX™ helps hosts podcast their shows and create a regular stream of dynamic content to share with their prospects and feed the search engines every week. Programs are recorded and streamed live to the internet from our corporate offices in suburban Atlanta. For more information or to see a live show, visit: http://www.BusinessRadioX.com.