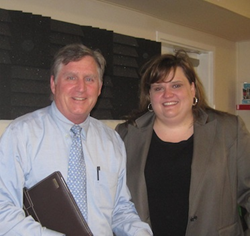 R&D credits are not just for companies with white lab coats and big research labs.
Atlanta, GA (PRWEB) September 06, 2012
On Tuesday September 4th, 2012, Lee Kantor, host of Results Matter radio on Business RadioX™ was joined in the downtown Atlanta studio by Edward H. Brown, a partner with Burr & Forman and Melissa Horne, a Senior Tax Manager with Smith & Howard for a discussion of the new Georgia R&D Tax Credits.
The three discussed the fact that while larger companies employ people to keep track of tax laws and credits, many small to medium sized businesses don't even know credits like the new state R&D Tax Credit exist.
Horne explained that it's the job of the company's advisers (their lawyers and accountants) to keep them abreast of these kinds of credits and wanted to be sure people understood that "R&D credits are not just for companies with white lab coats and big research labs. Many other types of innovation and research are included, such as software development and new product development, etc.". Brown agreed saying, "if the professionals don't go out and talk about this stuff, it falls flat. We've got to be that source."
Brown also noted that there are a very small percentage of companies actually taking this credit and explained that the change to the law that occurred in May of this year will allow businesses to take the credit against payroll withholding instead of just taxable income.
When Kantor asked if the tax credit was retroactive, Horne explained that as long as the statute of limitations had not past companies could amend their earlier tax filings and take the credit.
To learn more about the Georgia R&D tax credit, listen to the complete interview on the Results Matter Radio page for Atlanta Business RadioX™.
About Burr & Forman's Results Matter Radio
http://resultsmatterradio.businessradiox.com/
Results Matter Radio brings you pertinent business information and real life solutions to help drive desired results – whatever your business may be. We interview Business Leaders and Trusted Advisors about the most important issues in Commercial Real Estate, International Commerce, Healthcare, Family Business, Corporate Litigation, Finance, Philanthropy, Estate Planning, and more.
About Business RadioX™:
Business RadioX™ provides a turnkey solution for business owners who want to leverage the power of internet radio to meet their best prospects, establish credibility for their organization and heighten the placement of their brand in search engines rankings. With a professional venue and a proven formula, Business RadioX™ helps hosts podcast their shows and create a regular stream of dynamic content to share with their prospects and feed the search engines every week. Programs are recorded and streamed live to the internet from our studios in the greater Atlanta area. For more information or to hear a live show, visit:http://www.businessradiox.com.
###