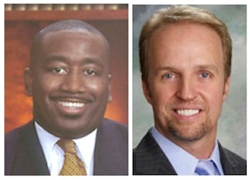 Atlanta is a city that fights well above its weight.
Atlanta, GA (PRWEB) September 21, 2012
On Tuesday September 18th, 2012, Lee Kantor, host of Results Matter radio on Business RadioX™ was joined in the downtown Atlanta studio bAtlanta City Councilman H. Lamar Willis joined Invest Atlanta CEO Brian McGowan and attorney Brad Baldwin of Burr & Forman to discuss the current initiatives and future plans for business growth and development within the city limits of Atlanta and throughout the greater metropolitan area.
McGowan detailed plans for attracting new business to the city, but also noted that while talking about new companies coming in to town is more headline worthy, serving the existing companies needs is also critical to the continued success of the city.
Councilman Willis talked about some of the financial reforms that have occurred under Mayor Reed and how that has affected the city. He also talked about the recent trade mission to China and noted that Atlanta is extremely accessible, and has a low cost of living, but that the best reason to come to Atlanta is for it's people. He further explained that the existence of highly skilled educated potential employees is very appealing to companies looking to relocate.
The group talked about the TSPLOST situation and Councilman Willis noted that the deepening of the port in Savannah and the streetcar in downtown Atlanta both go a long way to keeping business here and bringing in new companies.
McGowan quoted the mayor and said "Atlanta is a city that fights well above its weight" and talked about the potential the city has to be truly competitive.
To learn more about the plans for economic development in Atlanta, listen to the complete interview on the Results Matter Radio page for Atlanta Business RadioX™.
About Burr & Forman's Results Matter Radio
http://resultsmatterradio.businessradiox.com/
Results Matter Radio brings you pertinent business information and real life solutions to help drive desired results – whatever your business may be. We interview Business Leaders and Trusted Advisors about the most important issues in Commercial Real Estate, International Commerce, Healthcare, Family Business, Corporate Litigation, Finance, Philanthropy, Estate Planning, and more.
About Business RadioX™:
Business RadioX™ provides a turnkey solution for business owners who want to leverage the power of internet radio to meet their best prospects, establish credibility for their organization and heighten the placement of their brand in search engines rankings. With a professional venue and a proven formula, Business RadioX™ helps hosts podcast their shows and create a regular stream of dynamic content to share with their prospects and feed the search engines every week. Programs are recorded and streamed live to the internet from our studios in the greater Atlanta area. For more information or to hear a live show, visit: http://www.businessradiox.com.
###