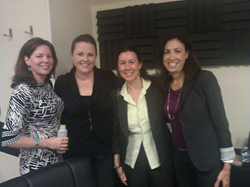 ...you just have to not be afraid of making that contact and going out on a limb.
Atlanta, GA (PRWEB) September 30, 2012
On Tuesday September 25th, 2012, Lee Kantor, host of Results Matter radio on Business RadioX™ was joined in the downtown Atlanta studio by HLN Digital's Editor in Chief, Katie Caperton, along with the Director of Marketing and Operations for Thomas Arvid Fine Art, Inc., Maggie Geraghty and Burr & Forman partner Ashby Kent for a lively discussion about Women in Leadership. Show producer Dana Barrett stepped in for vacationing co-host Elizabeth Gordon to round out the discussion.
Both Caperton and Geraghty talked about their career paths, the industries they work in, and the experience of growing their careers. Caperton noted that in her industry women in leadership are common and that she really didn't experience any gender disparity or difficulty in getting ahead. Kent on the other hand noted that while more and more women are attending law school and going to work in the field, there is still a problem with women staying ion the partnership track once they begin to have families. She added that firms like Burr & Forman are working to change that with programs like their new Women's Intiative.
When asked what advice they would give to women starting out in their fields, Geraghty suggested that all artists should look at what they are doing as a business and not just a creative endeavor. Caperton suggested making really good contacts and specifically going after 'people who have the job you want to have in five years". She advised going to a mid-level person and seeking their advice and joked "flattery will get you everywhere". Kent agreed saying, "you just have to not be afraid of making that contact and going out on a limb."
To learn more about HLN Digital, Thomas Arvid Fine Art, Inc. and Burr & Forman listen to the complete interview on the Results Matter Radio page for Atlanta Business RadioX™.
About Burr & Forman's Results Matter Radio
http://resultsmatterradio.businessradiox.com/
Results Matter Radio brings you pertinent business information and real life solutions to help drive desired results – whatever your business may be. We interview Business Leaders and Trusted Advisors about the most important issues in Commercial Real Estate, International Commerce, Healthcare, Family Business, Corporate Litigation, Finance, Philanthropy, Estate Planning, and more.
About Business RadioX™:
Business RadioX™ provides a turnkey solution for business owners who want to leverage the power of internet radio to meet their best prospects, establish credibility for their organization and heighten the placement of their brand in search engines rankings. With a professional venue and a proven formula, Business RadioX™ helps hosts podcast their shows and create a regular stream of dynamic content to share with their prospects and feed the search engines every week. Programs are recorded and streamed live to the internet from our studios in the greater Atlanta area. For more information or to hear a live show, visit: http://www.businessradiox.com.
###