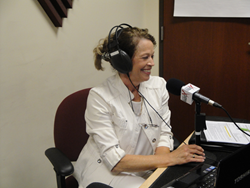 Automated continuous compliance is now real and is the best way to provide security...
Atlanta, GA (PRWEB) June 27, 2013
On June 25, 2013, co-hosts Lee Kantor and Stone Payton of Results Matter Radio on Business RadioX® sat down with Debra Gail Steen from ACR 2 Solutions to discuss HIPAA compliance.
As a Sales Manager for ACR 2 Solutions, Inc., Debra Gail Steen works to provide state of the art automated enterprise risk management software and compliance solutions as governance, risk management and compliance (GRC) software as a service (SaaS). According to Steen, "Compliance used to be a periodic and mostly manual project driven by audit dates and deadlines, but now government mandates and industry regulations can lag years behind the emerging threats."
To this end, solutions from ACR2 make it possible for organizations to utilize best practices in governance and risk management. Steen explained, "Automated continuous compliance is now real and is the best way to provide security and meet regulatory standards, even as those standards become more stringent." ACR2's automated tools assist organizations in complying with numerous regulations including the Gramm Leach Bliley Act (GLBA), Health Insurance Portability and Accountability Act (HIPAA) the Payment Card Industry Data Security Standard (PCI DSS), and the Federal Information Security Act (FISMA).
Focusing specifically on HIPAA 102: New Rules and Penalties for Non-Compliance, Steen described the Omnibus Rule that represents massive sweeping changes to the HIPAA Privacy and Security.
To hear what has changed, what is new and what it could mean to your organization. listen to the complete interview on Results Matter Radio.
About Burr & Forman's Results Matter Radio:
http://resultsmatterradio.businessradiox.com/
Brought to you by Burr & Forman LLP, Results Matter Radio brings you pertinent business information and real life solutions to help drive desired results – whatever your business may be. We interview Business Leaders and Trusted Advisors about the most important issues in Commercial Real Estate, International Commerce, Healthcare, Family Business, Corporate Litigation, Finance, Philanthropy, Estate Planning, and more.
About Business RadioX®:
Business RadioX® provides a turnkey solution for business owners who want to leverage the power of internet radio to meet their best prospects, establish credibility for their organization and heighten the placement of their brand in search engines rankings. With a professional venue and a proven formula, Business RadioX® helps hosts podcast their shows and create a regular stream of dynamic content to share with their prospects and feed the search engines every week. Programs are recorded and streamed live to the internet from our studios in the greater Atlanta area. For more information or to hear a live show, visit: http://www.businessradiox.com.