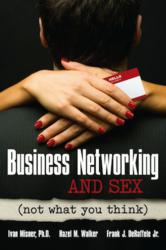 Dr. Misner understands the power of the pen and its impact upon business
Atlanta, GA (PRWEB) March 19, 2012
Dr. Tim Morrison, host of "Write Here, Write Now" on Atlanta Business RadioX™ is especially honored to have Dr. Ivan Misner as the featured guest on the March 20th live broadcast at 10AM EST.
Misner is the founder and Chairman of BNI, the world's largest business networking organization. BNI has over 6,200 chapters throughout every populated continent of the world. He is a New York Times bestselling author who has penned 16 books including his latest #1 bestseller "Business Networking and Sex (not what you think)". Misner is also a monthly columnist for Entrepreneur.com and is the Senior Partner for the Referral Institute – a referral training company with trainers around the world. He has been featured in the L.A. Times, Wall Street Journal and New York Times as well as numerous TV and radio shows including CNN, the BBC and The Today Show on NBC.
"Dr. Misner is the perfect guest for this show," says Morrison. "Not only is he internationally known for his keen insights into effective business networking, but he has also shared his knowledge through several books. Dr. Misner is the epitome, perhaps even the gold standard, of a business leader, entrepreneur and professional who understands the power of the pen and its impact upon business."
The interview will air live on Tuesday March 20th at 10AM EST and will focus on Dr. Misner's new book, "Business Networking and Sex (not what you think)." Expect insight into the ideas behind the book, writing with co-authors and the marketing efforts that went into making the book a bestseller.
To listen to the interview live, go to the Write Here Write Now page for Atlanta Business RadioX™.
About Dr. Tim Morrison:
Dr. Tim Morrison is the host of "Write Here, Write Now" and the owner and President of Write Choice Services. He is the author of 4 books including Writing Secrets: Essentials Steps to Discover How to Start. Tim has written numerous articles for various magazines and publications as well as content for curriculum, workshops and seminars. He has 2 earned doctorates: DMin and ND. Dr. Morrison lives in Marietta, GA.
About "Write Here, Write Now":
"Write Here, Write Now" is a weekly internet radio show featuring business leaders, entrepreneurs and professionals who discuss their work and the book they have written, are in the process of writing or intend to write someday. The show is sponsored by Write Choice Services: A unique writing, editing and coaching company that provides professional help for writers and those aspiring to be published writers to write the book they've hungered to write.
About Atlanta Business RadioX™:
Atlanta Business RadioX™ provides a turnkey solution for business owners who want to leverage the power of internet radio to meet their best prospects, establish credibility for their organization and heighten the placement of their brand in search engines rankings. With a professional venue and a proven formula, Atlanta Business RadioX™ helps hosts podcast their shows and create a regular stream of dynamic content to share with their prospects and feed the search engines every week. Programs are recorded and streamed live to the internet from our corporate offices in suburban Atlanta. For more information or to see a live show, visit: http://www.BusinessRadioX.com.
###