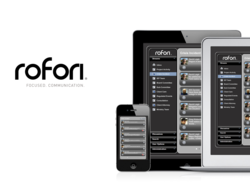 Rofori offers a powerful, logical, and intuitive interface for managing and searching communications
Northern Virginia (PRWEB) March 20, 2012
Rofori Corporation has launched a new website, http://www.rofori.com, introducing a private social media technology-based service that will transform the way professionals, teams and groups focus their communications.
Rofori is based on simplified and focused communication needs. Today's world of communications is a mosaic of e-mails, voice conversations, text messaging, and social network postings. E-mail has become an exercise of bringing everyone in the entire e-mail universe into the inbox and tediously filtering out the "noise", typically consuming quality time to get to the pertinent e-mails. Voice conversations rarely get recorded for future reference and text messaging is limited, which leads to gaps in communications continuity and are difficult to efficiently save for future reference. Popular social networks are focused on connecting people socially. However, these are not places to discuss private and sensitive information or to focus a group to accomplish a proprietary objective. Rarely do all of the pieces of communications come together in a coherent, easy to follow manner. Searching historical data typically becomes a very time consuming ordeal. Rofori brings order to this cluttered communications environment.
Rofori is a tool that offers structure in an unstructured messaging environment. The design focus is based on the end user experience, maximizing flexibility and depth of features, while maintaining ease of use. Rofori achieves both. Rofori offers a powerful, logical, and intuitive interface for managing and searching communications.
"Information sharing and confidentiality are critical aspects that are holding back educators as they attempt to stay abreast and integrate technology into the classroom. Rofori provides a solution that allows the educator to share and receive secure information with confidence. It is more than another tool in the teacher's toolbox. It is a fresh, new innovative toolbox that allows easier application of the tools teachers already use. Real time communication is necessary to the decision making of the 21st century educator. It is expected and necessary. Rofori provides the platform to make it happen" said Robert Roda, a Special Education Instructor with a local school system.
"As a value-added reseller of heterogeneous products and services to the federal government space, Seeds of Genius' supply chain is complex in nature. Rofori is a key tool in building our competitive infrastructure and allowing communications within all stages of our supply chain within our sales, engineering and customer base. Rofori is a crucial component in providing true value to our customers" stated Congetta Kelley, President, Seeds of Genius.
About Rofori Corporation
Rofori Corporation, founded in 2011, is a privately held high technology company. Rofori Corporation is introducing a private social media technology-based service that will transform the way professionals and teams communicate, with increased focus. Rofori Corporation offers the application at two service levels, individual and organization. The rofori Individual Service is designed for people such as independent consultants, professionals, students, or individuals that need to establish private team or group related communications streams. The rofori Organization Service is designed to provide centralized administration features that fulfill an organization's needs to centrally manage and control its information assets and support communications that span across multiple employee stream owners. Technical skills are not required to use the rofori service.