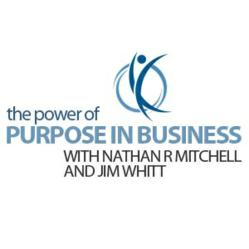 71% of employees are disengaged in their work, yet few organizations do anything about it.

-Nathan R Mitchell MBA, CPBA, CPMA
Tulsa, Oklahoma (PRWEB) February 11, 2013
"The Power of Purpose in Business," co-founded by Nathan R Mitchell and Jim Whitt, will soon be hosting webinars to help organizations drive workplace engagement, productivity, and bottom-line results.
Their first webinar, hosted by Nathan R Mitchell, will be Wednesday, February 20th at 1:30 PM CST. The topic is "Driving Business Results Through the Understanding of Behaviors."
"Talent management is a combination of many things, and one of those is the understanding of behavior," says Mitchell. "Through our partnership with Target Training International, we offer a suite of assessments and tools that can be used to hire the right individuals, improve engagement and productivity in the workplace, improve communication, and ultimately, drive additional revenues for your enterprise."
Mitchell, who is also the founder of the Tulsa Business Coaching company, Clutch Consulting, has been consulting with businesses and professionals since 2010. He has certifications in both Behaviors and Motivators analysis.
"The key to successful employee engagement starts with the understanding of each employee's uniqueness," says Whitt. "Studies show the most effective people in the workplace have a solid understanding of themselves, their strengths, and their weaknesses. The tools we have to offer help organizations accomplish this, and much more."
Whitt, who is also the founder of the business consulting company, Purpose Unlimited, has been working with organizations since 1988. He is a "Professional People Provoker," and the author of three books, including "Riding for the Brand: The Power of Purposeful Leadership," and "The Transformational Power of Purpose."
Mitchell and Whitt will conduct additional webinars in the weeks ahead on Motivators, Emotional Quotient (EQ), and Growth Curve Analysis.
"We simply want to add more value to area businesses," says Mitchell. "These webinars are yet another way Jim and I can fulfill our purposes of empowering others and helping them reach their full potential."
To register for the upcoming webinar, "Driving Business Results Through the Understanding of Behaviors," visit the following link. Seats are limited.