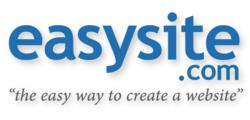 (PRWEB) June 26, 2013
EasySite.com has really stepped up their game in 2013 by launching a new website building platform that puts each business owner in control of their own business website. Business owners no longer have to pay outrageous web design fees when they want to make a change to their website.
EasySite states, "It's very difficult to find affordable small business website design so we took it upon ourselves as developers to make it really easy and affordable for business owners to create their own professional website and manage it without having to know any website code."
EasySite has thought of many aspects of what is really important to business owners when representing their company online. For example, it includes a blogging feature (with just the click of a button) and gives specific instructions on how to blog. When used correctly, big search engines like Google can find the content and rank it. This is a huge part of being a successful business online that brings free traffic to a website and qualified traffic for that matter. This translates into more new customers for the business owner. EasySite also includes HD video, photo galleries, forums, news sections, and social media integration all with just a click. There are over 18 beneficial business features that the business owner can activate depending on their type of business and industry.
These days having a professional business website is a must in any industry and having one that doesn't cost you an arm and a leg is just another reason why thousands of customers have found EasySite's new business website builder.
Currently, EasySite is offering a free five-day trial that includes a domain name and consultation to get a website up and running.