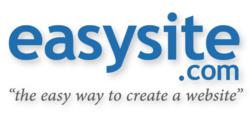 (PRWEB) April 22, 2013
Easysite.com has been in the industry since 2005 helping individuals build websites with cool and easy to use functionality, however now they have switched their focus to business owners as they have seen the demand skyrocket over the last three to four years for affordable, professional-looking business websites.
Hundreds of thousands of people need business website development done at an affordable price, however they don't want to sacrifice functionality for price. Knowing this, Easysite spent two years creating a professional business website builder that allows typical business owners to become their own web designer in just minutes. Business owners do not need to know any code or have any web design software. This means business owners never have to worry about getting ripped off by overpriced web design fees or even worse, have to deal with web designers that don't call them back or reply to their emails and just leave them hanging.
Easysite gives business owners full control of their own websites and even allows them to integrate everything that a normal web designer would (such as videos, photo gallery, forums, additional html pages, blog, etc.). All the business owner has to do is fill in their information and click the "Save" button.
Easysite prides itself in being "easy to use" hence the name Easysite. Easysite is extremely professional and responsive with customer requests. Easysite also offers a small business website package which is called the "We-Build-It" package. This package allows the business owner to sit back and relax while Easysite.com website developers create a business website for them. Every plan offered by Easysite comes with free phone support, email support and video support, plus their entire staff is based in the U.S. to ensure high quality customer service. For more information on Easysite.com, please visit their website.