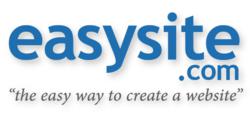 (PRWEB) May 13, 2013
Easysite.com comes from an eight year background of helping thousands of clients build websites and has even been featured on FOX and KillerStartUps.com. Easysite recently noticed that there is a large market for affordable business website design and set out to create a package that could capture this emerging market. In early 2013 Easysite released the "We-Build-It" package for business owners and it was a hit from day one. Customers are raving about the price and the quality of design. Most importantly, they appreciate not needing a web designer to manage or add pages because Easysite offers simple tools to get the job done on the spot. Every website from Easysite is created with Google and other major search engines in mind. Also, every website makes sure to include social media buttons on all pages of the professional business website.
The "We-Build-It" package costs less than $1,000 and includes strategic website consultations with the business owner. The consultations are used to determine what the website will look like and what type of functionality is desired. From that point on, the business website development team at Easysite (which is U.S. based) begins working on the logo and the website design.
Within two weeks Easysite offers up to three rounds of revisions of what the business owner wants done to their website. After the process is completed, the business owner has a professional looking website that otherwise would have cost between $5,000 to $10,000. Easysite knows this because their customers have made quick decisions to use their service after getting bids from other "professional website design" companies. It seems as though Easysite has found its niche and is growing leaps and bounds with happy customers.