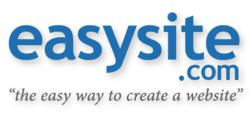 (PRWEB) May 30, 2013
Easysite.com has been in the website industry since 2005 helping people create simple websites without having to know any website code. Business website design was always in the plan and now after thousands of customer requests for business type functionality Easysite has delivered. New features for the business version of Easysite include social media plugins and highly search engine optimized web pages. Easysite decided to get their development team together and start building the new business website builder in late 2011. The new website system allows the business owner to go through a step by step process (with video instructions) to create, edit and manage their own business website.
Some business owners prefer to rely on the professionals when it comes to their image that is presented to customers. For that type of business owner, Easysite has created a different plan called the "We-Build-It" which costs less than $1,000.
The "We-Build-It" package means Easysite's developers actually develop a business website including a logo for the customer. After the site is completed, Easysite will walk the business owner through their own website to show them how to manage it and add to it in the future. Of course, Easysite also offers free phone support so they can walk the business owner through any changes or updates they might want to make. Email support is available for free as well.
It seems as if Easysite is doing a great job of making their main focus to offer a business website that is professional. With this in mind, Easysite only charges the business owner a fraction of what other professionals would charge for business website development. It's equally important that Easysite offers top level customer service based in the U.S. and guidance on how to change, edit and manage the business owners website. Easysite's business website design platform helps eliminate the need for a business owner to ever have to pay a web designer again.
To learn more check out their website and videos to see how "easy" it really is to build a website.