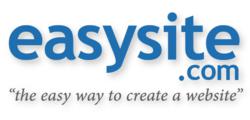 (PRWEB) May 09, 2013
Customers seem to be going crazy lately over the simplicity and affordability that Easysite.com offers when it comes to affordable small business website design. Whether a business owner is looking to redesign their business website or build multiple business websites, Easysite has a solution for either scenario.
Easysite has been in the industry making affordable and professional websites since 2005 however they are now offering a much-needed website building service to business owners.
Easysite offers a "do it yourself" website platform that shows business owners how to create and manage their business website without having to know any website code. In fact many users say "If someone can log into an email account, create an email, attach a picture, and send it, then they can build a business website and it won't look like they built it. It will look like a professional built it."
This professional business platform also has many of the much needed features that help businesses survive online such as social media areas on the site as well as SEO (search engine optimization) friendly pages that allow business owners to type in specific keywords which lets the search engines like Google know to rank the website content for specific searches.
Typically the business owner on the go will opt for a different package which is called the "We-Build-It" option and leave the image of his or her business up to the professionals. Easysite developers (which are located in the U.S.) can build a business website for a client for under $1,000. This package includes a web design consultation, logo creation and the entire website build out.
Either package the business owner chooses comes with video support to show the business owner how to manage their site or change the look and feel. It also includes phone support and email support in the event the business owner has questions about their website. The entire service is offered for only $19.95/month. This price also includes unlimited hosting and daily backups of the website. Easysite seems to be on the right track and looks to soon be a major player in the business website development industry.