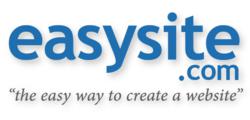 (PRWEB) June 25, 2013
EasySite.com has been in the website building game since 2005 serving up thousands of great websites for individuals and organizations. Now they have released a new website building platform that builds business websites called the "Professional Website Builder."
The new version of EasySite has added over 20 website features that a business owner can activate with just the click of a mouse. Features include an online store, forums, video galleries, photo galleries, news sections, and much more. One of the most valuable feature is social media integration with just a copy and paste of the business owners social media URL. Another extremely valuable feature that many EasySite customers use in order to drive tons of free traffic to their site is the blogging feature. This feature gives an extreme edge over other website builders, as search engines like Google want to see new fresh content on a website before they start to really consider shooting up a website's rankings. EasySite also gives you tips on how to write your blog so the large search engines like Google can find your content and rank it quickly.
It seems as though EasySite has been in the website building business for a while. The new "Professional" level of EasySite places them ahead of the game by looking out for small business owners and how they represent themselves online. EasySite has been featured on FOX and KillerStartUps.com and has thousands of happy and satisfied customers. Currently EasySite has a free five day trial that includes a free domain name along with phone, email and even online video support to help get a business website up and running.