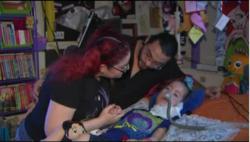 Mamaroneck, New York (PRWEB) October 27, 2011
Bussani Mobility, a leading area provider of mobility equipment and solutions, recently stepped up to help after a 4-year-old New Jersey girl and her family lost their wheelchair van due to theft in September.
4-year-old Deirdre suffers from a terminal illness called spinal muscular atrophy. The disease usually kills children by the age of 2, so Deirdre has already defied the odds, though she has virtually no muscular control and cannot even raise her head. Her parents sacrificed everything to leave Puerto Rico to bring Deirdre here where she could receive the care that she needed.
The family had owned an older minivan that had been retrofitted with wheelchair and mobility equipment. That was taken away from them one night when their wheelchair van was stolen right from the parking lot of their apartment complex. Deirdre's mother said, "They didn't steal from me or my husband – they stole from my daughter."
Help Me Howard, a segment put out by local PIX 11 News, ran the story and a longtime viewer named Maria Torre suggested that Howard speak with Bussani Mobility. When Howard got in touch with Bussani, Deirdre's story really struck home. This was a family doing everything they could for their daughter – the loss of their van was not their fault. However, it was certainly their problem. It did not take very long for Bussani to locate a used wheelchair van in their inventory that would be perfect for the family.
Bussani Mobility donated the wheelchair van to Deirdre's family on the air with Help Me Howard, and the family was overjoyed. It truly summed up what Help Me Howard and the mobility industry is all about – people coming together to help each other.
To learn more about the mobility solutions available or to see the company's stock of wheelchair vans and accessibility solutions, visit http://www.BussaniMobility.com.
About Bussani Mobility: Bussani Mobility has served their customers for more than 30 years, and has a history of providing the best in wheelchair vans and mobility equipment. Bussani's Bethpage location has been open for 37 years and the Mamaroneck location for 7 years. The company is deeply committed to providing the best service possible. In addition to offering industry-best wheelchair vans, Bussani Mobility also offers expert service, knowledgeable advice and flexible financing programs.
###