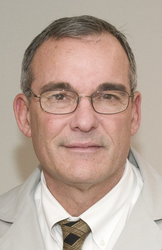 At Butler Orthopaedics, we have morning, afternoon and evening office hours to fit our patients' work and school schedules. Appointments are available even on Saturdays.
Orland Park, IL (PRWEB) August 31, 2010
Board-certified orthopaedic surgeon David Butler, MD, has opened an office in the Primary Care Center at 153rd Street and West Avenue in Orland Park, Illinois, just south of Chicago.
Dr. Butler, who is on staff at Palos Community Hospital in Palos Heights, Illinois, has treated bone and joint conditions in adults, teens and children in the Chicago area since 1991.
He is fellowship-trained in arthritis and hip and knee replacement, and specializes in revision surgery for patients who have had a previous hip or knee replacement. For many years, other Chicago-area orthopaedic surgeons have referred patients with difficult hip and knee problems to Dr. Butler.
"At Butler Orthopaedics, we have morning, afternoon and evening office hours to fit our patients' work and school schedules," Dr. Butler explains. "Appointments are available even on Saturdays. Our office has easy access and handicap parking is available."
Patients who have been to the emergency room or the Immediate Care Center can be treated promptly for their bone or joint injuries. Many services are available under one roof, including x-rays, a pharmacy, CT scans and physical therapy.
"Several people on the ER staff recommended Dr. Butler," says JoElla Siuda, 43, a running enthusiast from Lockport, who broke her shinbone while snowboarding last December. "He is phenomenal!" she says. "My case was pretty extreme—I had a spiral fracture on the weight-bearing bone in my shin, plus a broken ankle. I couldn't walk, let alone run. I've been a runner since I was 19, and I was petrified I'd never be able to run again after my injury."
"Dr. Butler was so calm and reassuring," she recalls. "He recommended implanting a titanium rod in my shinbone for the fastest and best recovery. I also needed two plates and several screws in my ankle. Dr. Butler thoroughly explained the surgery and understood how important running was to me," she adds.
"I had my surgery on Dec. 31, got my cast off two weeks later and was swimming the next day," Siuda recalls. "And I've been running again since the end of May!"
Dr. Butler treats a variety of bone and joint conditions, including arthritis, deformity, disability, fractures, sports injuries and job-related injuries. He performs arthroscopic surgery as well as joint replacement surgery using the latest techniques.
But not every patient needs surgery. "I take a conservative treatment approach," Dr. Butler explains. "There are usually good alternatives to surgery, and I will always point them out."
Butler Orthopaedics accepts Medicare, Blue Cross/Blue Shield, MultiPlan, Unicare, Aetna, CIGNA and nearly all PPO plans.
Dr. Butler has served as an associate clinical professor of orthopaedic surgery at Loyola University Medical School and as a surgical consultant at Edward Hines VA Hospital. He has co-authored articles in medical journals including Ergonomics, Spine and The Journal of Bone and Joint Surgery. His speaking engagements include more than 100 lectures for medical societies and consumer organizations.
He is a member of the American Association of Hip and Knee Surgeons, a fellow of the American Academy of Orthopaedic Surgeons and a past-president of the DuPage County Medical Society. Dr. Butler is also a member of the Illinois Orthopaedic Society, the Illinois State Medial Society and the American Medical Association.
Dr. Butler completed advanced training with a fellowship in arthritis and adult reconstructive surgery under the guidance of Anthony K. Henley, MD, at St. Luke's Hospital in Phoenix, Arizona.
He received his orthopaedic surgery residency training at Cook County Hospital (now Stroger Hospital) and the University of Illinois Hospital in Chicago, and earned his medical degree from the Chicago Medical School.
For more information on Butler Orthopaedics, visit http://www.drbutlerortho.com, or call 708-349-6700 to schedule an appointment.
# # #