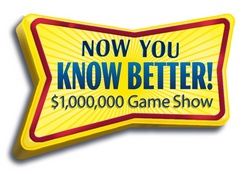 We are educating consumers about the health concerns of saturated fats and cholesterol in butter and the benefits of using I Can't Believe It's Not Butter!(R)
ENGLEWOOD CLIFFS, N.J. (PRWEB) January 22, 2008
The campaign includes the online Now You Know Better $1,000,000 Game Show hosted by celebrity John O'Hurley, live play cameos of a group of celebrities who admit to now knowing better and a robust advertising campaign.
The new I Can't Believe It's Not Butter!(R) campaign showcases how we have progressed through the decades, with respect to lifestyle changes, especially those focused on health. It illustrates that there are many things that we used to believe in the past, we now know better about - everything from sunbathing to slathering butter on our food. Butter is not a healthy option because it has saturated fats, cholesterol, and Trans Fats. Now we know better: The campaign reminds consumers that, I Can't Believe It's Not Butter!(R) Original soft spread is made with a blend of nutritious oils, so it is an excellent source of essential Omega 3 ALA. It also contains 0g Trans Fat, which the American Heart Association urges people to avoid, and contains 70 percent less saturated fat than butter. I Can't Believe It's Not Butter!(R) allows consumers to eat smarter without sacrificing taste.
"We are educating consumers about the health concerns of saturated fats and cholesterol in butter and the benefits of using I Can't Believe It's Not Butter!(R)," said associate brand manager, Naomi Cohen. "The flashback to the naivete of previous decades combined with the integration of celebrities in our campaign will capture consumer attention and engage them in our health messages."
Introducing America's Know Better Family - "The Buttertons"
The Now You Know Better $1,000,000 Game Show national television advertising campaign launched on January 14th. The national broadcast advertising portion kicked off with a 30-second television spot featuring the Buttertons, a family from the past that thinks butter is so good for them that they use entire sticks on their vegetables. The family portrays a throwback to a time when butter was front and center on the dinner table and families used to glob it on everything they ate. The family then transitions to present when we "know better" and reminds consumers that I Can't Believe It's Not Butter!(R) is the better choice. Select spots will also include a tag that features John O'Hurley and promotes the Now You Know Better $1,000,000 Game Show. The TV spots will run on many stations including TBS, ABC, FOX and NBC.
What would YOU do with $1,000,000?
The online game at http://www.NowYouKnowBetter.com is a fun and interactive way for consumers to receive many instant win prizes including spa getaway weekends and premium kitchen equipment. From January 14 to March 31, players can compete against each other online, with John O'Hurley as their host. Contestants will answer a variety of fun trivia questions dating back to the 50's, including things they should now know better about, such as how to live a healthy lifestyle. Every player has an opportunity to enter up to five times per day into the Finalist Sweepstakes Drawing. For each of the five rounds played, players will receive one entry into the Finalist Sweepstakes Drawing, once the initial registration form is complete. And for every friend the contestant tells, who later registers, they will receive one additional entry. So the more you play, and then more you tell, the more chances you have to win instant prizes and perhaps even $1,000,000!
Online amplification of the game, which was developed in partnership with MSN, commenced on January 14th. This will include banners throughout at MSN.com, and a featured special link in the Game section of the site that clicks through to the game at http://www.NowYouKnowBetter.com.
Some Celebs Fess Up They Now Know Better
Slugging a fan instead of giving an autograph, juicing up on steroids, and creating explicit bedroom videos are all moments that stars Gary Coleman, Jose Canseco and Dustin Diamond should have known better about. These celebrities get in on the "know better" action through a series of public service announcement-style vignettes set to launch in February in which they confess their "Know Better" moment. Consumers also have the chance to play the online game head-to-head against these celebrities and chat with them live. The live games and chats air each week starting in mid-February.
About Unilever:
Unilever (NYSE: UL, UN), one of the world's largest consumer products companies, aims to add vitality to life by meeting everyday needs for nutrition, hygiene and personal care. Each day, around the world, consumers make 150 million decisions to purchase Unilever products. The company has a portfolio of brands that make people feel good, look good and get more out of life.
In the United States these brands include recognized names such as: Axe, "all," Ben & Jerry's, Bertolli, Breyers, Caress, Country Crock, Degree, Dove personal care products, Hellmann's, Lipton, Knorr, Popsicle, Promise, Q-Tips, Skippy, Slim-Fast, Snuggle, Suave and Vaseline. All of the preceding brand names are registered trademarks of the Unilever Group of Companies. Dedicated to serving consumers and the communities where we live, work and play, Unilever in the United States employs approximately 15,000 people in 66 office and manufacturing sites in 24 states and Puerto Rico- generating more than $9 billion in sales in 2005. For more information, visit http://www.unileverusa.com.