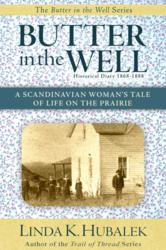 One of the best "first settler" accounts I've ever read! I couldn't put it down until I had read the whole book.
Lindsborg, Kansas (PRWEB) October 25, 2012
Butterfield Books Inc. is celebrating the 20th anniversary of Linda Hubalek's Butter in the Well Series by releasing updated versions of all her books during Family History Month.
Family History Month promotes searching for one's ancestors. A good way to understand the journey and homesteading of one's family is to read Kansas author Linda K. Hubalek's historical fiction book series. Hubalek has a knack of pulling readers into the story to feel the emotions, times and trials of the 1800s, which helps the person researching their ancestors to realize what their family's life was like during that time frame.
The Butter in the Well books is based on the actual Swedish immigrant family that homesteaded the farm that the author grew up on. Used in schools for pioneer history studies, they are also enjoyed by readers of all ages who have kept the Butter in the Well book series in print for twenty years.
A reader on Amazon.com wrote about Butter in the Well: "One of the best "first settler" accounts I've ever read! Hubalek's story of Swedish immigrant, Kajsa, who settled in Central Kansas, was riveting. I couldn't put it down until I had read the whole book. Stories of rattlesnakes coming through the dugout ceiling, prairie fires, the joys of newborn babies and the heartaches of losing loved ones….Reading Linda Hubalek's book shows that starting life as a homesteader was very tough, and the story was so real that I was working the sod right with her. Be sure to read the whole four-book series, and her other two series as well."
These books are available in stores, or online at Amazon.com, ButterfieldBooks.com or LindaHubalek.com. Watch for free ebooks on Amazon.com this fall to celebrate the updated books.
Butter in the Well by Linda K. Hubalek is available as paperback: ISBN: 978-148004345 or EBook: ISBN: 978-1886653217.
About Butterfield Books Inc.: Founded in 1994, Butterfield Books Inc. publishes and promotes books about Kansas and its pioneer history. The company is located in Lindsborg, Kansas, known as "Little Sweden USA."
About Linda K. Hubalek: Homesick for her Midwestern family community while temporarily in California for her husband's job, Hubalek turned to writing about what she missed, which started a new career for her. Hubalek has written ten books, including the Trail of Thread and the Planting Dreams series about pioneer women that made Kansas their home.