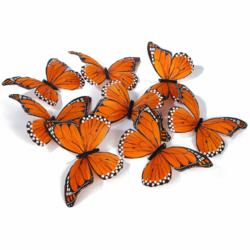 Monarch season begins in March! These beautiful butterfly garlands were used by the White House.
Vista, CA March 8, 2011 (Vocus/PRWEB) March 08, 2011
Representing an extraordinary migration that takes place in Mexico each year, Monarch butterfly garlands were selected from World Buyers to welcome Mexico's President at a state dinner hosted by the White House. Months after the event, sales are still increasing for already popular World Buyers butterfly garlands.
Monarch butterflies migrate every year to and from Michoacán Mexico and North America and at a welcoming celebration dinner, thousands of monarch butterfly garlands were hung from the ceiling simulating the way these butterflies cling together on trees and branches at their migrational destinations.
Due to increased sales demand, World Buyers has expanded its already huge line of butterfly garlands to include more styles and new gift packaging for selected designs. Most often used in home decor, event decor and store displays, butterfly garlands are sold at gift stores serving alternative to high-end markets. "Designers for weddings and display designers for museums and even zoos use butterfly garlands for their themed events. Since the garlands are available in so many styles and colors it's easy to fulfill a color scheme requirement for any event."
As seen in their showrooms, and similar to the White House event, butterfly garlands hang by the hundreds in endless colors and sizes to create a display often duplicated by retail store window designers. "They are the big draw to our wholesale showroooms, both in the Los Angeles Gift Mart and Atlanta's America's Mart. Time after time, our customers tell us it's their window displays of our butterfly garlands that attract more customers into their stores."
Available in natural styles and embellished designs, World Buyers wholesale butterfly garlands are available to the trade online at worldbuyers.com
# # #