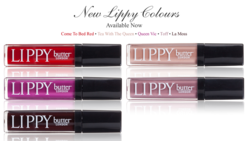 Vancouver, BC (PRWEB) October 11, 2012
The matchy-matchy lip and nail trend is here to stay. Inspired by the high-impact lips seen on the catwalks this season, the LIPPY Winter '12 collection includes bold pops of color, chic nudes and a vampy hue. The shades are rich and highly pigmented for a look that's luxe and perfectly on trend.
Toff: A darker, dustier, brownish variation on a rose pink.
Come to Bed Red: The sexiest red in history, by butter LONDON.
Tea with the Queen: On the pink side of tan, very neutral, but never boring. Understated and exceptional for work, or obviously, tea with the Queen.
La Moss: Vampy and full of red wine, just like its inspiration.
Queen Vic: Stunning, elegant and classy. Red wine meets cranberry. Fit for a queen.
LIPPY products do not contain parabens, petroleum, phthalates, sulphates or bismuth. butter LONDON is available