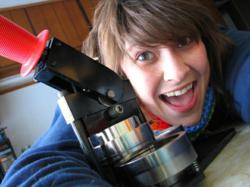 "Buttonhead is not just a job to me. I care about providing a high-quality product with excellent customer service, and I integrate my passion, values and personality into every piece I make."
METAMORA, Ill. (PRWEB) January 30, 2013
Sometimes a good business idea hits the nail on the head... or the button, that is. Buttonhead, an Illinois-based producer of custom button pins, round magnets, pocket mirrors, sticker labels and temporary tattoos is celebrating its five-year anniversary. For a limited time, all new online customers will earn $10 worth of "Button Bux" on orders of $100 or more by entering coupon code BBX86475 during web checkout.
In the midst of the 2007 economic downturn, the concept and inspiration for Buttonhead took shape. "I started out with one small button machine in the spare room of my apartment, just making them for friends," said owner and lead designer Ali Puckett. "Every year, I added new products and services, and what had started as a side project steadily became a full-time venture!"
The small business now services a global clientele with its exclusive line of handcrafted pinback buttons, round magnets, pocket mirrors, sticker labels and custom temporary tattoos through its online boutique. Made to order and perfect for a variety of celebrations and business promotional events, custom designs range from whimsical and playful to avante garde, edgy and truly unique.
Commenting on the thoughtfulness, precision and detail of Puckett's designs, customer Janine writes, "The color and quality is perfect." In another review Liz writes, "Fabulous workmanship. Great service [and] all around great experience..." Customers can also submit photographs or custom artwork for use as a one-of-a-kind template.
"Buttonhead is not just a job to me," Puckett continues. "I care about providing a high-quality product with excellent customer service, and I integrate my passion, values and personality into every piece I make."
The company uses 100-percent American-made materials and supplies. To purchase these handcrafted products and receive $10 in Button Bux for your order of $100 or more, visit the company website and enter coupon code BBX86475 during checkout. Preview the Buttonhead photo blog gallery for a sneak peek of what's hot off the press.
About The Company:
Servicing a global clientele since 2007, Buttonhead produces unique, handcrafted party and promotional items. Ideal for artists, businesses, and events, each item is American handmade with pride. The company is privately owned and operated by Ali Puckett and currently located in Metamora, Illinois. Connect with Ali on Facebook and Twitter to learn more and get the latest company updates.