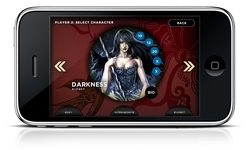 We are extremely excited to work with James Ernest and Cheapass Games to bring this highly popular game to the iPhone
Atlanta, GA (PRWEB) October 24, 2009
Thrust Interactive and Cheapass Games are pleased to announce the availability of Button Men on the Apple iPhone and iPod Touch. Button Men is a single or two player game using dice and character driven buttons. It is the winner of 3 Origins Awards including Best Abstract Board Game of 1999.
The original Button Men game utilized extraordinarily artistic character sets created by popular modern artists. Each character was represented by a button, worn on the player's shirt. The turn-based play involved rolling dice to beat and capture opponent dice. The continuously expanded sets ranged in content from mercenary females to bloodcurdling undead to humoristic comic characters. Each character had strengths and weaknesses offering many strategic elements to the game.
"We are extremely excited to work with James Ernest and Cheapass Games to bring this highly popular game to the iPhone," said Lukas Bradley, president of Thrust Interactive. "This is a wonderful opportunity to recreate a real-world social game into a digital multiplayer environment."
"Button Men and the iPhone are perfect for each other," remarked Button Men creator James Earnest. "This new platform actually makes the game cheaper and more portable than ever. Button Men is the best thing for iPhone since the app that simulates sliced bread!"
The iPhone version will evolve to be as expansive and addictive as the original version. As with the original button-based game, additional character packs will be released over time. Future updates will include networked play, ratings and more. To learn more, please go to http://www.buttonmen.com/
Cheapass Games was founded in 1996 by James Ernest on the principle that games should be low cost and utilize every day, household items for play. More information is available at http://www.cheapass.com/.
Founded in 2004, Thrust Interactive is an independent game studio and third-party developer of massively multiplayer games, virtual worlds, and rich Internet applications. Thrust specializes in Adobe Flash and Flex, iPhone, Unity 3D and Java. Please see http://www.thrustinteractive.com for more information.
# # #