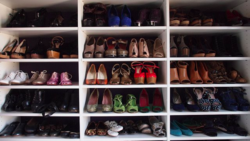 "There's no reason why resale stores can't offer customers the same attention and courtesy found in other boutiques."
Los Angeles, CA (PRWEB) February 23, 2012
"There's no reason why resale stores can't offer customers the same attention and courtesy found in other boutiques. BBLA will provide personal shopping & styling, as well as our exclusive mobile buying service. This is where we'll come to you to buy your unwanted vintage and designer items. But my most favorite service that we offer is our donation service. This is where we'll happily donate the unwanted clothes that we didn't buy from you, for you, to the local charities servicing Skid Row. How's that for customer service," says Delacroix.
BBLA will also have a very competitive buy-back and consignment rate (2%-10% higher than the industry standard), giving sellers more money for their unwanted items. "Why would anyone want to sell their clothes and accessories anywhere else," says Marley. They will carry brands, like Alexander Wang, Vena Cava, Louis Vuitton, and Chanel, that will be sold for less than half of the original price.
The decision to launch BBLA isn't something out of the ordinary for Marley and Delacroix. In fact, the name, Buttons and Bows LA, has been around for a few years. It started as Delacroix's personal fashion and style blog, which evolved into a successful e-bay store that sold Marley's extensive collection of designer clothes and accessories that she no longer wanted. The BBLA online store gained popularity, so the pair began sourcing more merchandise, both vintage and designer. At the time of their early success, Delacroix and Marley thought about opening a physical store. But due to the poor economy, the business partners wanted to wait until they had secured a more stable following and presence. "Starting small with little to no risk is the perfect way to begin a company, especially in our current economic climate. We were able to test our market by figuring out what styles and brands people like and how much they are willing to pay. So, opening a physical store space was the natural next move for us," says Marley.
The much-anticipated opening of Buttons and Bows LA is scheduled to hit the Fashion District around mid March to early April. Delacroix and Marley chose a location that's easily accessible to the people working at the nearby showrooms, the students from FIDM, and the resident artists from the Art District. "We really hope that it's only a short matter of time before BBLA becomes the city's destination for a service-centered resale shopping experience," says Delacroix.
Marley and Delacroix will release further news and updates about the BBLA launch through their website, blog, and social media outlets that consist of Twitter, Instagram (@buttonsandbowsla) and Facebook. Expect sneak peeks of their inventory, pictures of their store space, and information on their store's launch party. Marley and Delacroix visualize a grand opening celebration that will bring together shoppers, as well as their friends in the fashion and music industry.
Buttons and Bows LA will be located at 111 W. 7th St. R11 Los Angeles, CA 90014. If you'd like more information about Buttons and Bows LA or to schedule an interview with Karen Marley and Dillon Delacroix, please visit http://www.buttonsandbowsla.com
###