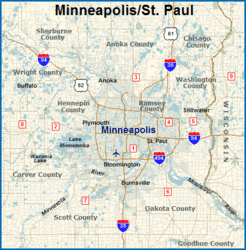 "Minneapolis was one of 2012's best preforming major housing markets. The Twin Cities is a great place to live, work, and enjoy the wealth of shops, parks, lakes, art centers, and top of the line entertainment," Jenna Thuening.
Minneapolis, MN (PRWEB) January 12, 2013
The Home Data Index™ (HDI) Clear Capital Market Report, with data through December 2012, was released January 9th. Using a broad array of public and proprietary data sources, the HDI Market Report publishes the most granular home data and analysis earlier than nearly any other index provider in the industry. It predicts the Minneapolis housing market is nabbing investor's eyes as an up and coming market and a great place to live.
Clear Capital states: "2013 gains will be measured against a higher price floor after a full year of recovery. Some buyer segments get priced out of recovering markets. As those buyers search for opportunities, housing markets with improving local economies and low price points, like Minneapolis, could become the new targets for investors."
Home Destination agrees. "For the serious investor, there are still plenty of great Minneapolis housing deals to be found when looking for decent returns, and pent up home buyer demand is on the verge of materializing," says Jenna Thuening, owner of Home Destination.
According to the HDI findings, Minneapolis, MN – St. Paul, MN – Bloomington, is expected to see a 2.3% quarterly increase, a 16.3% year-to-year increase, a 19.0% increase in the saturation of REO homes, and an overall one year forecast of 7.3% growth.
The Clear Capital HDI Market Report provides insights into market trends and other leading indices for the real estate market at the national and local levels. A critical difference in the value of the HDI Market Report is the capability of Clear Capital to provide more timely and granular reporting than other home price index providers. Home Destination finds Clear Capital's report of value along-side other traditional housing metrics. It provides weighted repeat sales and price-per-square-foot index models that use multiple sale types of top home buyer interest: single-family homes, multifamily homes, and condominiums.
As it related to the Twin Cities housing market, Home Destination considers the following as the top points in Clear Capital's 2013 Housing Predictions:
1) Mild quarterly gains likely reflect some pause from buyers who tend to put purchase plans off over the holiday and winter season.
2) The Midwest saw quarterly gains of 0.6%, with December trends relaxing slightly over November.
3) Midwest's recovery is forecasted to unfold into 2013, with expected yearly gains of 2.3%.
4) This time last year, the Midwest saw prices fall by 3.0%. Current home prices have notably improved with December prices rising 3.0% year-over-year, just 0.1 percentage point higher than in November.
5) In comparison, through 2013, national home prices are forecasted to grow by 2.1%.
Highlights in the MINNEAPOLIS AREA ASSOCIATION OF REALTORS® Monthly Indicators for December 2012 reflect why the Twin Cites is great place to live and plan to buy a home:

New Listings in the Twin Cities housing market decreased 15.5 percent to 2,853.
Pending Home Sales were up 6.7 percent to 2,962.
Inventory levels shrank 31.8 percent to 11,875
The Median Home Sales Price increased 16.0 percent to $168,202.
Days on Market Before selling was down 23.4 percent to 108 days.
Absorption rates improved as Months Supply of Inventory was down 42.0 percent to 2.9 months.
"The jump in Twin Cities commercial real estate sales to foreign investors in 2012 signals that Minneapolis is not only a great place to live; it is a great place to work," says Thuening. Some Minneapolis area residents may be surprised to learn of the high sum of investor sales in the Q2 of 2012: "The Twin Cities reeled in $384 million in cross-border commercial real estate investments. That amount put it in the top 10 of the nation's cities, No. 8 to be exact, sliding in ahead of Boston and Phoenix, both of which are larger," according to an August 7th MinnPost article titled Foreign investors are flocking to Minneapolis commercial properties.
All told, 2012 ended strong for the Minneapolis housing market and 2013 is poised for a continued recovery baring unforeseen events. "Current rates of growth signal the market is slowly calibrating itself to pre-bubble rates and prices," concluded Clear Capital.
Home Destination, a Minneapolis Certified Distressed Property Expert guides perspective home buyers and sellers in the Minneapolis housing market and St Paul area real estate decisions. Call 612-396-7832 and ask for Jenna Thuening if you are looking for Minneapolis homes for sale.