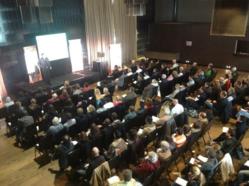 I can't wait to show these new audiences how to buy a house for a dollar, and generate positive cash flow.
Sydney, Australia (PRWEB) October 18, 2012
Earlier in 2012 Australian property investment strategist, Rick Otton, announced the publication of his real estate book 'How To Buy A House For A Dollar'. The response to the book led to him conducting free one-day seminars across the country, to explain his innovative strategies in greater detail. Dates for the final events have just been announced.
To be held in Sydney, Melbourne and Brisbane, these final one-day seminars will, like the others in recent months, be free to the public. Venue capacity restrictions, however, mean that bookings are necessary.
"Our last events were held in venues that were perfect for the numbers who had booked tickets" said Mr Otton. "But what we didn't take into account was those with tickets bringing along friends! My team did a great job of finding extra seating to ensure that we didn't have a 'standing room only' situation."
Who Should Go?
Like most creative ideas, Mr Otton believes, his real estate investing strategies have been embraced by what has been described as a property investment sub-culture. "One that is comprised of creative thinkers who are prepared to take a step back from the traditional way of conducting property transactions, and embrace the new way of buying and selling their homes."
The dates and locations of the final three seminars have been revealed as:
Sydney: October 20
Brisbane: November 4
Melbourne: November 24
Registrations can be made online at HowToBuyAHouseForADollar.com.au
"I am really enjoying these seminars" said Mr Otton. "Just seeing the look on the faces of those attending - the look that tells me that they finally get it - its just priceless."
He continued "I can't wait to show these new audiences how to buy a house for a dollar, and generate positive cash flow - from Day 1 - without a deposit, bank loan or real estate experience."
These three events are the very last opportunities to learn from Rick Otton in 2012.
About Rick Otton
Rick Otton has spent decades making money by snapping up inexpensive real estate and putting it to work building wealth. Now, he's teaching other Aussies how to do the same.
Otton is the founder and CEO of We Buy Houses, which operates in the U.S., U.K., Australia and New Zealand putting his strategies to work every day.
Otton got his start in alternative real estate investment in 1991 and within a year acquired 76 properties. In years after, Otton made a fortune using his low-risk, high-reward strategies to inexpensively acquire real estate.
Now, Otton wants to share the wealth by sharing the wisdom, teaching Aussies how to buy and sell real estate without cutting banks and other middlemen in on the deal.
Otton has been featured in a variety of television programs and magazines, including Today Tonight, A Current Affair, Australian Property Investor and more.
You can learn more about Otton and how to invest in residential real estate without using banks at RickOtton.com
Details of Mr Otton's free one day training events can be found at HowToBuyAHouseForADollar.com