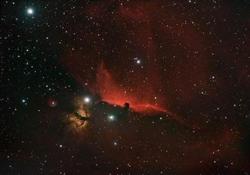 Our free astrophotography book explains in detail how to take pictures with a telescope
(Vocus/PRWEB) March 08, 2011
Good astronomy equipment is more accessible and more affordable than ever. As such, the interest in astrophotography has spiked in recent years. Getting started in astrophotography is appealing to a lot of people, but most of them have no clue what this hobby entails. To remedy this problem, Buy-Telescope.com has just released a free ebook titled "An Introduction to Astrophotography" which will get any astronomy nut started on the right track.
Astrophotography is a rewarding hobby but it can also be frustrating, especially when people don't really know what they should be doing. What people see in a telescope is a lot different than the images that can be capture with a telescope.
The first step to learning astrophotography is reading about it. People see pretty images of galaxies, planets, nebulas, the moon and star clusters in telescope ads, magazines or on the web. They want to try and capture their own photos of these celestial objects. Unfortunately, they neglect to conduct a proper research and they buy a telescope and camera that may not be suitable for them. Often, they have no clue how to use the equipment, they get frustrated and everything ends up in a box in the basement. Getting the right telescope and accessories is important. With thousands of products to choose from, buying the right equipment can be a daunting task. What's more important however is to understand how to use this equipment.
Astrophotography is not as simple as pointing a telescope towards the sky and taking a quick snapshot with a camera. There's a lot more to it than that. Just like regular photography it can be a bit technical, but anyone can certainly learn these skills. Buy-Telescope.com owner Marius McLaughlin thinks it's a good idea for anyone interested in astrophotography to get a year's worth of experience in using a telescope and learning the basics of astronomy before considering astrophotography. He states that it's important for someone develops a certain level of comfort with telescopes before getting into astrophotography. "Our astrophotography book explains in detail how to take pictures with a telescope," he says. The free astronomy book does assume a basic knowledge of backyard astronomy is already acquired.
Marius says his book explains a broad range of topics including video astrophotography, DSLR astrophotography, and CCD astrophotography. Readers will learn about the more technical aspects of astrophotography such as signal to noise ratio, image scale, exposure times, guide cameras, calibration, image processing and more. It is definitely a good read for anyone who has in interest in astrophotography. Anyone can get the free astrophotography book by signing up at http://www.buy-telescope.com/get-started-in-telescope-astrophotography/.
# # #