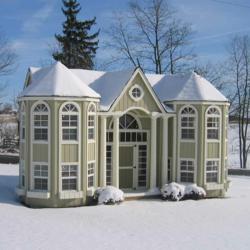 This Holiday season, participate in the new American Made Movement!
Sarasota, FL (PRWEB) November 13, 2012
Last year retailers saw the "Buy Local" movement spring up during Black Friday, where hundreds of thousands of shoppers turned to local merchants for their Holiday shopping. "This Holiday season, why not give the gift of an handcrafted, heirloom quality product? Something that can be cherished and appreciated, not just for it's function, but for it's craftsmanship." says Leon Hostetler Co-Founder of Pinecraft.com.
Hostetler continues, "Remember the old fashioned wooden toys that kids used to get for Christmas? They're still being made by Amish wood workers throughout the US. As well as a host of other handcrafted items, like beautiful kids outdoor playhouses and heirloom quality furniture and decor." Internet retailers have opened the doors for Amish woodworkers, and products that once were only available close to the Amish communities, can now be shipped direct from the woodworker's wood shop. Some retailers even offer Free shipping.
Pinecraft.com has over 1,500 Amish made products available and more added monthly, offering great ideas for unique holiday gifts. Based in Sarasota, FL, Pinecraft.com pays tribute to the local Amish community, Pinecraft, FL. In fact, Pinecraft is the only Amish community in Florida and quickly growing in popularity thanks to the emergence of Amish Reality shows and an entertaining visit from Adam Richman, host of Travel Channel's Man v. Food. Co-founded by Michael Lennox, a web designer and internet marketer and business partner Leon Hostetler, who, himself is ex-Amish and a self-taught internet marketer. Leon started his venture in the internet world by helping his family, who are still Amish, launch an internet retail site for the family furniture business, Montana Woodworks. His family's log furniture can also be found on Pinecraft.com.
Pinecraft.com has a wide variety of Amish made products, showcasing Amish patio furniture and outdoor decor; Amish sheds and barns and large, outdoor Amish Playhouses. Recent heirloom additions include beautifully handcrafted bedroom furniture, kitchen furniture and a variety of indoor decor.
This Holiday season, participate in the new Amish Made, In America Movement! Shop with retailers that offer Amish made goods. With the internet literally at your finger tips, finding those unique, well made gifts, has never been easier.
2011 saw the launch of Pinecraft.com, the fastest growing internet retailer of Amish furniture and Amish home and garden products. With over 1,500 products available and more added monthly, Pinecraft.com is sure to become a leading internet retailer of Amish made products. Pinecraft.com is visited by 10,000 people per month and has over 3,000 friends on it's Facebook Fan Page.