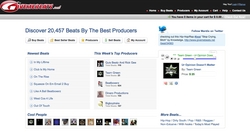 I discover some of the most talented producers with fluid creativity on Givemebeats.net
Charlotte, NC (PRWEB) June 7, 2009
Givemebeats.net, the #1 social network to buy beats and sell beats online, now hosts over 20,000 beats uploaded by some of the best producers in the world. And more beats are being uploaded daily by new and the most successful producers online, such as: Quis Beatz And Rick Gee, BeatBoxerz, Killyang, Chico Caldeira and more.
Givemebeats.net is a revolution in the Hip Hop community. It connects producers to artists in a very nice looking, clean and easy to navigate website.
It hosts a variety of studio-ready, high-quality, professional beats in multiple genres: Hip-Hop, Rap, R&B, Reggae, Electronica, Dirty South, Freestyle, and more.
All the beats are reviewed before they become available for sale, and can be downloaded instantly after purchase, which is convenient for artists who want to run to the studio and record a song real quick, or for other purposes.
"I discover some of the most talented producers with fluid creativity on Givemebeats.net," said Mardix the owner and CEO of the site.
Givemebeats.net offers a lot of great features to ease and make it fun to buy beats online:

Design: The site is cleanly designed to allow a better navigation, and ease of use.
Search Beats : The site allows you to search beats by genre, price, duration, license of use, Best Seller, etc.
Favorites: Save beats that you like for a later visit or purchase. Definitely a great one, since you may want to save a beat and look for more before you decide to buy.
Share: Share your favorite beats with friends, visitors and the rest of the world.
Profile: Your own page to talk about yourself, share pictures, videos etc with friends.
History: The site temporarily records all the beats that you played in case you want to go back to beats that were played recently. It's really useful, because you may lose track after hearing over 100 beats.
Producer's Activities: Automatically get notified when a producer has posted a new beat
Unlimited download: Once you purchase a beat you will always have access for future download
Givemebeats.net is a pioneer in the online beat marketplace, and you will discover a lot of talents from all around the world.
"Musicians, singers, rappers, dancers who were looking for original beats have been satisfied by the art and the joy these producers put in their beats."
About Givemebeats.net
Givemebeats.net was founded by Mardochee "Mardix" Macxis in 2005. The site allows artists, singers, rappers, dancers, anybody to buy beats and download them instantly. The beats are uploaded by some the best producers in the world. To buy beats and sell beats online, go to http://www.Givemebeats.net.
Site: http://www.Givemebeats.net/
# # #