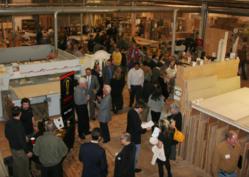 The public has really gotten behind and embraced this movement. It is inspiring to see how businesses are reaching out to one another.
Doylestown, PA (PRWEB) February 07, 2012
Superior Woodcraft, nationally-recognized custom cabinetmaker, in conjunction with the Doylestown Business and Community Alliance (DBCA), will once again host the hugely popular Buy Local - Bucks County Locavore. The sampling / business card event, which last year brought over 400 area business people together, supports the growing interest in locally made and grown products. This free business networking opportunity takes place Thursday, February 23rd, from 5:00 pm to 8:00 pm at Superior Woodcraft's showroom, located at 160 North Hamilton Street, Doylestown, PA. All business and media organizations, as well as local chambers, are invited to attend.
Patrick Kennedy, Vice-President of Superior Woodcraft noted that in the last several years, communities with Buy Local support are experiencing a markedly stronger revenue growth. "The public has really gotten behind and embraced the Buy Local movement," said Kennedy. "It is inspiring to see how many businesses are reaching out to one another." Guests will also be treated to a special selection of local foods and beverages provided by the growers and producers who carefully crafted it. "This is also a great opportunity to learn a little about local food and the 'Locavore' movement; once you've tasted, you'll quickly appreciate the amazing bounty in our own back yard," continued Kennedy.
Among the array of sustainably grown and specially prepared gourmet treats will be artisanal bread from Crossroads Bake Shop, organic, micro-greens from Blue Moon Acres, charcuterie and pâtés from PorcSalt, unique cakes from Doug's Cakes, healthy, gluten-free snack chips from Brad's Raw Chips, fresh-roasted, specialty coffees from The Coffee Scoop, handcrafted chocolates and confections from Laurie's Chocolates, varietal wines from Wycombe Vineyards, select beers from Triumph Brewery, baked-to-order cakes from Confection Perfection, top quality prepared foods from Just Foods, local produce and gourmet foods from The market at Delaware Valley College, and estate-bottled wines from Rose Bank Winery, In addition, Wash Tyme will be showcasing their natural glycerin soaps, and a variety of products, distributed by Uniquely Bucks.
"Doylestown is one of America's premier towns, and we thank Superior Woodcraft for helping to bring awareness to the importance of strong local economies and the part they play in building strong communities and enhancing our quality of life," offered Rich Slabinski, Doylestown Business and Community Alliance.
Ashley Lyons, Sales Manager for Blue Moon Acres expressed the satisfaction that comes from developing relationships with attendees of the Locavore: Buy Local event. "This past year we were able to connect with Triumph Brewery and Bucks County Freedom Fuel, two local companies that are integral to the success of our mission to get local food to our community and run our farm in an environmentally responsible way," said Lyons.
Independent We Stand, a national organization of independently-owned businesses which has been funded by STIHL, Inc, is also lending its support and endorsement to the event. Bill Brunelle, project manager for Independent We Stand said, "We are honored to be a part of this event. It is businesses like Superior Woodcraft, and all the other locally owned businesses in Doylestown, that inspire us to do what we do." Local STIHL dealer, and Independent We Stand Member, Wendell Histand understands how critical the community is for local dealers. "Histand Equipment has been a part of the community for 85 years and we wouldn't be here if it wasn't for the great folks of Doylestown who understand the importance of supporting local merchants like us," said Histand.
"The Locavore event held at Superior Woodcraft has been instrumental in promoting Laurie's Chocolates. "I use local ingredients where possible, including wines, balsamic vinegars, butter and cream," said Laurie Douglass, of Laurie's Chocolates. "As I don't have a retail location, this event lets me take my chocolate samples right to customers, and this incredible, unique location makes the evening pure, delicious fun!"
Andy Rumbold, Wash Tyme Glycerin Soap and Bucks County Freedom Fuel Biodiesel, stated, "The Locavore event has truly helped us connect with the great people of our community and be a part of our local economy as a producer as well as a consumer. We are looking forward to it even more this year than last as we continue to seek local markets for our products."
About Superior Woodcraft, Inc.
Superior Woodcraft, in Doylestown, PA, designs and handcrafts heirloom-quality cabinetry for the whole home with sustainable methods and materials, providing beauty, utility and peace of mind. Family owned and operated since 1967.
About Doylestown Business and Community Alliance (DBCA)
The Doylestown Business and Community Alliance (DBCA) was formed in 1984 to foster a quality of life beneficial to the residential and business communities. The DBCA's Shop Local, Dine Local program offers discounts to encourage residents to shop and dine in Doylestown.
About Independent We Stand
Independent We Stand, a national organization, is all about independently owned businesses across the country reaching out to their communities and educating their neighbors about the many benefits of "buying local."
About Blue Moon Acres
Blue Moon Acres grows quality micro greens and herbs in Buckingham, PA without chemical pesticides, herbicides, fertilizers or growth regulators. http://www.bluemoonacres.net
About Crossroads Bake Shop
Crossroads Bake Shop creates artisanal breads and pastries in Doylestown, PA with unbleached, unbromated and sometimes organic flour, never using artificial colors, flavors or hydrogenated shortenings. http://www.crossroadsbakeshop.com
About Doug's Cakes
Doug of Doug's Cakes in Chalfont, PA, has been baking for over 25 years. A graduate of the Culinary Institute of America, Doug trained and worked with some of the finest pastry chefs in the world. http://www.dougscakes.com
About Laurie's Chocolates
Laurie's Chocolates, located in Doylestown, PA, creates handcrafted, small-batch chocolates from pure chocolate and the freshest local ingredients. Chocolate collections include truffles, toffees, bars, caramels, and specially blended hot cocoa mixes. http://www.laurieschocolates.com
About The Coffee Scoop
The Coffee Scoop, a new specialty coffee company located in Bucks County, is Fair Trade licensed, and the recipient of the organic certification from PA Certified Organic. The Coffee Scoop starts with superior quality 100% Arabica coffee beans and skillfully roasts them to create a memorable coffee experience. http://www.freshcoffeescoop.com
About PorcSalt
PorcSalt handcrafts charcuterie, pates and terrines in the traditions of France and Italy using only the finest farm-fresh ingredients from small sustainable farms. Chef Matthew Ridgway's mission is to design and create products of only the highest quality and distinction for discriminating customers. http://www.porcsalt.com
About Triumph Brewing Company
Triumph Brewing Company offers a selection of freshly brewed craft beers along with a full menu at 3 locations: New Hope, PA, Philadelphia, PA and Princeton, NJ. http://www.triumphbrewing.com
About Wash Tyme
Wash Tyme of Bucks County hand makes natural vegetable glycerin soap from recycled vegetable oil with natural fragrances, essential oils, shea butter and olive oil. Gentle, safe and effective. http://www.washtyme.com
About Wycombe Vineyards
Wycombe Vineyards, located in Buckingham Townships Agricultural District, has been in the family since 1925. Their mission is to make the finest local varietal wines from only the freshest, hand picked grapes grown exclusively at the vineyards. http://www.wycombevineyards.com
About Brad's Raw Chips
Truly the "Healthiest Chips in the World," Brad's Raw Chips preserve the nutrients and enzymes that aid digestion and keep you energized. http://www.bradsrawchips.com
About The Market at Delaware Valley College, including Just Foods, Confection Perfection Dessert Company, and Rose Bank Winery
Offering farm-grown and locally grown produce, gourmet food items, cheeses, delicious baked goods and breads, homemade ice cream, as well as a fully stocked nursery department and greenhouse.
Amongst the quality purveyors found at The Market at Delaware Valley College are: Just Foods- top quality prepared foods, take out, custom catering, for any occasion, Rose Bank Winery- produced and estate-bottled at our own winery in Newtown, PA, featuring French-American hybrid and Viniferous grape varieties to make crisp, fruity, French-style wines that appeal to every palate, Confection Perfection Dessert Company- fifteen year old company known for tantalizing desserts, using only the finest ingredients to ensure consistent quality and outstanding taste. http://www.themarketatdelval.com
###