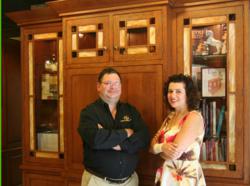 The energy and enthusiasm that local business owners brought to this event was uplifting and contagious!
Doylestown, PA (PRWEB) March 06, 2012
Superior Woodcraft, Inc., a premier-quality custom cabinetmaker, joined forces with the Doylestown Business and Community Alliance (DBCA), to promote a Locavore Buy-Local Event held on February 23rd. Nearly 500 area business professionals, small business owners, politicians and entrepreneurs gathered at Superior Woodcraft's showroom in Doylestown, PA to network, sample, celebrate and support locally grown and made products.
A variety of delicious, specially prepared gourmet foods, beverages and delicacies were sampled as attendees networked across Superior Woodcraft's expansive and immaculate woodworking shop. "The evening was a fantastic community-wide affair," said Patrick Kennedy, VP of Superior Woodcraft. "Every one of our producers and the DBCA has been excellent partners. The energy and enthusiasm that local business owners brought to this event was uplifting and contagious!"
"The Locavore Buy-Local is a fun event," said Chef Dave Mergen, custom caterer and owner of Just Foods. "This is my third year and the level of networking that occurs is amazing." Another participant, oWowCow owner John Fezzuoglio, maker of premium ice cream, noted how the buy-local movement had reached beyond the food industry and transcended into area businesses and manufacturers, such as Superior Woodcraft, who source much of their materials locally. "I am delighted to see the cultural shift that is occurring," said Fezzuoglio. More than sixteen local businesses participated in the event including: Blue Moon Acres, Brad's Raw Chips, Crossroads Bake Shop, Doug's Cakes, Laurie's Chocolates, The Coffee Scoop, PorcSalt, Triumph Brewing Company, oWowCow Ice Cream, Wash Tyme, Wycombe Vineyards and The Market at Delaware Valley group: Just Foods, Confection Perfection and Rose Bank Winery.
The buy-local movement in Bucks County has matured in the last several years as residents and businesses alike unify to keep dollars circulating within their own communities and, as a result, are experiencing a markedly stronger revenue growth. By collaborating with other local businesses, new markets and suppliers are uncovered. Sustainable-savvy entrepreneurs such as Bucks County Freedom Fuel, recycle vegetable oils collected from local restaurants, and then turn it into biodiesal to run the tractors at local farms that supply produce to the restaurants. "Creative solution solving such as this demonstrates the resiliency and determination of small business owners," said Kennedy.
Congressman Mike Fitzpatrick stated, "Bucks County has a proud tradition of a strong local economy powered by our small businesses. The family farm is the original American small business, and this event highlights the important contributions of the still-thriving Bucks County farm community, as well as those of the countless independent, locally-owned small businesses."
Bill Brunelle, Project Manager for Independent We Stand, a national organization of independently owned businesses based in VA, arrived in time to meet area business owners, many of whom are members. Independent We Stand, funded by STIHL, Inc, has been s staunch supporter of the event.
About Superior Woodcraft, Inc.
Superior Woodcraft, in Doylestown, PA, designs and handcrafts heirloom-quality cabinetry for the whole home with sustainable methods and materials, providing beauty, utility and peace of mind. Family owned and operated since 1967.
About Doylestown Business and Community Alliance (DBCA)
The Doylestown Business and Community Alliance (DBCA) was formed in 1984 to foster a quality of life beneficial to the residential and business communities. The DBCA's Shop Local, Dine Local program offers discounts to encourage residents to shop and dine in Doylestown.
About Independent We Stand
Independent We Stand, a national organization, is all about independently owned businesses across the country reaching out to their communities and educating their neighbors about the many benefits of "buying local."
About Blue Moon Acres
Blue Moon Acres grows quality micro greens and herbs in Buckingham, PA without chemical pesticides, herbicides, fertilizers or growth regulators.
About Crossroads Bake Shop
Crossroads Bake Shop creates artisanal breads and pastries in Doylestown, PA with unbleached, unbromated and sometimes organic flour, never using artificial colors, flavors or hydrogenated shortenings.
About Doug's Cakes
Doug of Doug's Cakes in Chalfont, PA, has been baking for over 25 years. A graduate of the Culinary Institute of America, Doug trained and worked with some of the finest pastry chefs in the world.
About Laurie's Chocolates
Laurie's Chocolates, located in Doylestown, PA, creates handcrafted, small-batch chocolates from pure chocolate and the freshest local ingredients. Chocolate collections include truffles, toffees, bars, caramels, and specially blended hot cocoa mixes.
About The Coffee Scoop
The Coffee Scoop a specialty coffee company located in Bucks County, is Fair Trade licensed, and the recipient of the organic certification from PA Certified Organic. The Coffee Scoop starts with superior quality 100% Arabica coffee beans and skillfully roasts them to create a memorable coffee experience.
About PorcSalt
PorcSalt handcrafts charcuterie, pates and terrines in the traditions of France and Italy using only the finest farm-fresh ingredients from small sustainable farms. Chef Matthew Ridgway's mission is to design and create products of only the highest quality and distinction for discriminating customers.
About Triumph Brewing Company
Triumph Brewing Company offers a selection of freshly brewed craft beers along with a full menu at 3 locations: New Hope, PA, Philadelphia, PA and Princeton, NJ.
About Wash Tyme
Wash Tyme of Bucks County hand makes natural vegetable glycerin soap from recycled vegetable oil with natural fragrances, essential oils, shea butter and olive oil. Gentle, safe and effective.
About oWowCow
Producers of small batch, premium ice cream, using locally sourced, cream, eggs, honey, berries fruits and herbs. Located in Ottsville, Pennsylvania, oWowCow supports local farms in Bucks County and delivers a product that is wholesome, delicious and authentic.
About Wycombe Vineyards
Wycombe Vineyards, located in Buckingham Townships Agricultural District, has been in the family since 1925. Their mission is to make the finest local varietal wines from only the freshest, hand picked grapes grown exclusively at the vineyards.
About Brad's Raw Chips
Truly the "Healthiest Chips in the World," Brad's Raw Chips preserve the nutrients and enzymes that aid digestion and keep you energized.
About The Market at Delaware Valley College, including Just Foods, Confection Perfection Dessert Company, and Rose Bank Winery.
The Market at Delaware Valley College offers farm-grown and locally grown produce, gourmet food items, cheeses, delicious baked goods and breads, homemade ice cream, as well as a fully stocked nursery department and greenhouse.
Amongst the quality purveyors found at The Market at Delaware Valley College are: Just Foods- top quality prepared foods, take out, custom catering, for any occasion, Rose Bank Winery- produced and estate-bottled at our own winery in Newtown, PA, featuring French-American hybrid and Viniferous grape varieties to make crisp, fruity, French-style wines that appeal to every palate, Confection Perfection Dessert Company- fifteen year old company known for tantalizing desserts, using only the finest ingredients to ensure consistent quality and outstanding taste.
###