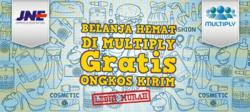 By extending the program, Multiply hopes that buyers can continue to receive the best offers online, in addition to experiencing convenient and secure shopping
(PRWEB) July 13, 2012
Multiply Indonesia (http://multiply.com/marketplace?country=ID) recently announces that the free shipping program is extended to December 31st 2012. The 'Free Shipping' program, supported by local logistics company JNE, subsidizes a maximum shipping cost of Rp 25,000 for purchases over Rp 100,000. The program covers deliveries all over Indonesia.
Products eligible to be covered in the program are those officially listed on Multiply that utilise the 'Buy Now' payment model. By extending the program, Multiply hopes that buyers can continue to receive the best offers online, in addition to experiencing convenient and secure shopping. In addition, the free shipping program is also applied to all product categories offered through Multiply, including clothing, beauty, gadget, baby products, computers and many more.
In Indonesia, Multiply.com is presently the largest online market with 85,000 sellers, 2.3 million registered users and 7 million unique monthly visitors. Having operated for a year and a half, the Indonesian office is the company's largest operational unit. The Multiply team in Indonesia has been actively participating in educating the market on e-commerce and supporting the sellers's community. Offering comprehensive online shopping features which enables social interaction between buyers and sellers, the Multiply platform also accommodates the way Indonesians transact by implementing payment methods ranging from bank ATM, e-banking, mobile payment and credit cards. Multiply also offers buyer protection which eliminates the worry of shopping online, even for first time users. Presently, Multiply, Inc. is under the leadership of CEO Stefan Magdalinski. As Country Manager of its Indonesian office is Daniel Tumiwa.
For Media Inquiries, please contact:
Nirmala R. Hapsari
Media Relations & PR Manager
Multiply Indonesia
+62 21 29303558
nirmala(at)multiply.com