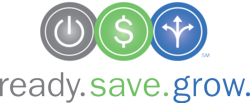 Washington, D.C. (PRWEB) May 21, 2012
With graduation and wedding season in full swing, the U.S. Treasury is encouraging people to consider savings bonds as graduation gift or wedding gift ideas for young people or soon-to-be newlyweds. Now that paper savings bonds have gone digital, the Treasury Department's Ready.Save.Grow. campaign is providing information about how people can gift digital savings bonds to loved ones using the Treasury's secure website, TreasuryDirect.gov.
"Since the January 2012 transition from paper to digital savings bonds, account openings in TreasuryDirect have increased 9 percent," said Jerry Kelly, national director of the U.S. Department of the Treasury's Ready.Save.Grow. campaign. "In many cases, people are opening an account for themselves as well as their children to give relatives and friends a convenient way to give gifts."
Ready.Save.Grow., a Treasury educational effort to encourage more people to save for their futures, provides information on how to open a TreasuryDirect account for you and your children. The campaign also offers these timely tips as you prepare for the upcoming season of graduations, weddings and other gift-giving occasions:
TIP 1: Invest in savings bonds for your child's future by opening a free TreasuryDirect account
For as little as $25, you can buy a safe and affordable savings bond – a guaranteed investment – for your child. To enable your child to receive savings bond gifts, open a child's account within your own TreasuryDirect account. Treasury's Ready.Save.Grow. website, is a helpful online resource to get you started.
TIP 2: If family or friends offer to help with your child's future education, think savings bonds
When you think of saving for your child's education, remember that savings bonds offer many advantages, such as being safe, low-risk investments that earn interest for up to 30 years.
TIP 3: Set an example by giving savings bonds to the children of family members or friends
Start a trend and invest in the future of the kids you know – buy savings bonds in their names. Your family and friends will thank you. To gift a savings bond, you'll need to log in to your TreasuryDirect account to make the transaction. It's important to know the recipient's full name and Social Security number ahead of time so you can complete the savings bond gifting process in these simple steps. Also, be sure to print out a themed gift certificate to include in your card or present.
For more information, visit the Ready.Save.Grow. website, http://www.treasurydirect.gov/readysavegrow.
TreasuryDirect is a registered mark of the U.S. Department of the Treasury.
Ready.Save.Grow. is a service mark of the U.S. Department of the Treasury.