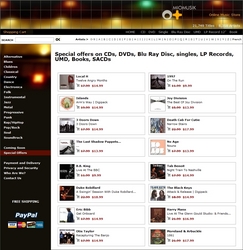 Miomusik is, quite simply, all about the music.
Rimouski, Québec (PRWEB) June 4, 2008
Miomusik is unique in delivering music with no shipping cost in every imaginable format - CD, DVD, single, Blu-Ray, UMD, LP, and even books.
"Every one of our customers will have their personal favorite medium to listen to their favorite music, so we deliver in every format there is," says Olivier Richard of Miomusik. "Miomusik is, quite simply, all about the music."
Miomusik (available online in English at MioMusik and in French at MioMusik in French) boasts a vast library of 21,611 titles and 8,314 artists, one that only promises to grow over the years. Music is available by category, ranging from Alternative, Blues and Classical to Rap, Pop, Rock and Soul.
The Miomusik web site features a powerful search tool to trawl its library, as well as a Coming Soon section (Coming Soon) that offers a sneak peek into artists and titles of the near future. As a PayPal-verified retail store, Miomusik accepts all credit cards and offers absolutely free shipping anywhere in the world.
"Our worldwide free shipping policy is just one more example of our commitment to satisfy our customers," says Bernard Therriault. "We want everybody to be able to get the best music whenever and wherever they want it."
About Musik Group, Inc.
Musik Group, Inc is a Canadian company established in 1990, owner of various companies and labels, as well as the store Audition Musik, located in Rimouski, Quebec. Musik Group is backed by passionate music specialists, each with a focus such as rock, alternative, punk, electronica, jazz or classical.
# # #