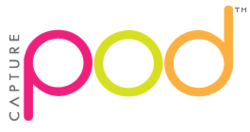 The entire product fits into a sedan and the business can be run from home.
Miami, Florida (PRWEB) July 31, 2012
Capture POD, a photo booth rental and manufacturing company, will be launching a new, lower-priced photo booth for sale in Fall 2012. The company, which first excited the industry in 2010 with its all-white, curved photo booth, has an equally cool but more compact model in the works. This new photo booth uses the same professional photography equipment as the Capture POD to continue capturing high-quality images, but is more portable, takes up less space at events, and provides even more room for large groups and movement.
The booth is ideal for budding entrepreneurs looking for an economical venture. Carlos Pacheco, CEO of Capture POD, says, "The entire product fits into a sedan and the business can be run from home." The timing is also right for anyone looking to buy a photo booth. Major wedding website, The Knot, added a new photo booth category to their website in April 2012 in response to growing demand. There are also opportunities for rentals outside of weddings. Photo booths are equally popular at birthday parties, bar/bat mitzvahs, public festivals, and corporate events. This popularity—combined with the new lower price—presents an opportunity for buyers to see full returns on their investment within 12-18 months.
In addition to a lower price tag and new open booth design, the new photo booth will feature the latest in photo booth technology, including options to record video, collect email addresses, and upload images to several social media sites. These new features make the photo booth more fun and interactive for users, and also make it a powerful marketing tool for corporate events. The ability to upload pictures to Facebook, and collect e-mail addresses from people who use the booth is invaluable to event marketing professionals who are not only looking to entertain audiences, but engage them as well.
At the end of each photo session, users are prompted to enter their email addresses into the system to receive electronic copies of their images. The advantage to corporate clients is that by the end of their event, they will have a database of emails addresses that can be used in future marketing campaigns. Social media uploads provide an even more instant connection between corporate clients and consumers. The photo booth brings online attention to brands by uploading pictures to a designated Facebook photo gallery. With these new features, a photo booth has never been a better investment. For more information about the new photo booth for sale, please visit CapturePod.com.