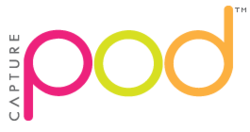 Miami, FL (PRWEB) August 31, 2012
Photo booth rental and manufacturing company, Capture POD, now offers a new "PLUS" package with new features and technology for its portable photo booth for sale. Known for its unique rounded design and high quality pictures, the new "Capture POD+" is now also a facebook friendly video booth with the ability to email users their photos instantly from right inside the booth. High demand for photo booths at weddings and events remains steady, and the Capture POD is available for purchase all over the world for those looking to start a photo booth rental business.
"Photo booths are a fairly simple concept," says Carlos Pacheco, co-owner and CEO of Capture POD. "You sit or stand in it, smile for the camera, and pick up your photo strips from the printer. The new Capture POD+ incorporates new applications and hardware to modernize that experience."
The "plus" package incorporates the following into the Capture POD:

Facebook connectivity
Email sharing
E-mail capture
HotFolder software license
Wireless USB adapter
Video capability
Screen prompts for video
Surface-mount microphone
Video technology was a natural progression of the Capture POD photo booth. "People love to leave personal messages and it is common to see videographers walking around conference centers and special occasion gatherings," says Pacheco. The Capture POD+ allows users to take pictures and up to 30-second videos. The surface-mount microphone will record sound inside the booth even under the noisiest conditions typical of special events. New screen prompts and interfaces allow users to easily switch between video and photo booth mode.
The wireless USB adapter allows the Capture POD to connect to the internet when a Wi-Fi connection is available. The Capture POD+ has the ability to upload pictures instantly to a specific Facebook photo album so that guests can tag themselves before an event is even over. For businesses and corporate events, this offers a valuable opportunity to drive traffic to a company's fan page, increase "likes," and encourage consumer engagement. "Anyone who buys a Capture POD is going to benefit from this new feature," Pacheco explains. "It adds value to the rental, can be offered at an additional cost, and appeals to big budget corporate clients."
Email sharing is another new feature made possible with the wireless USB adapter. At the beggining of each photo session, the Capture POD+ prompts users to enter an email address. An electronic copy of the photo strip is instantly sent to the email address provided, and the client can choose to have a message included in the body of the email (for eg. "Glad you're having fun at our wedding!" or "Like us on facebook"). A list of the email addresses collected are saved in a spreadsheet and provided to the client at the end of event. This is a valuable, high-demand marketing tool known as email capture.
The Capture POD+ offers an opportunity to book more events and make more income for anyone thinking of starting a photo booth rental business.
For information on how to purchase a photo booth from Capture POD, please visit:
http://www.capturepod.com