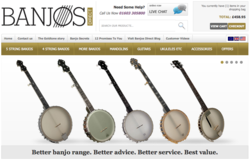 We are a banjo shop for the 21st Century!
(PRWEB UK) 5 July 2012
The specialist banjo shop, launched in December last year, and has quickly become a leading retailer in the UK and European market. Banjos Direct reported continued growth for the second quarter of the year as more and more people decide to buy a banjo, and the company believes its latest improvements will strengthen its sales still further.
The revisions to the Banjos Direct website include a greatly increased number of video demonstrations of instruments, plus an enhanced navigation system which enables browsers to take a 'bird's eye view' of the shop and to find the instruments they are seeking very quickly.
Simon Middleton, founder and CEO of Banjos Direct is a former high-profile brand and marketing author and consultant. He explained the benefits of the changes to prospective instrument buyers:
"Many music retailers on the web began life as small high street stores and some music instrument websites can therefore reflect that offline origin. But we started online from the beginning and the clarity and functionality of our shopping experience reflects that. We are a banjo shop for the 21st Century!"
Middleton, who has positioned Banjos Direct as leading the 'new era' of interest in the banjo, added:
"Banjo buyers want to see and hear the instruments in action so our site is now packed with videos of professional musicians playing individual instruments, and we are adding more all the time. And we have made substantial navigation improvements with clever drop down menus which allow shoppers to find exactly the kind of instrument they are seeking, or just to browse happily."
The site improvements also include clear service promises on every product page, and comparison of Banjos Direct's prices with recommended retail prices on individual products.
"When we launched the site we chose not to show RRPs but our customer feedback indicated that people like to see that base figure because it helps them to measure an aspect of the value provided by a store," said Middleton.
"So we have greater price clarity now, although the vast majority of our customers come to us for quality products and exceptional service, including instrument set-up, rather than just price," Middleton added.
Banjos Direct announced recently that it is seeking substantial investment funding to finance the next stage of its growth.
The company is the main UK dealer for American brands GoldTone and Nechville, as well as an official dealer for Ozark, Barnes and Mullins, Pilgrim and Ashbury. The company also recently began manufacturing its own range of banjos in the UK. Its Islander range is the only production range of banjos currently being manufactured in England.
Company information:
Banjos Direct is the UK's fastest-growing specialist banjo retailer, leading the renaissance of interest in the banjo amongst players of every age and background. The Norwich-based company is the UK's leading stockist of USA brands GoldTone and Nechville, and also stocks instruments by Barnes & Mullins, Pilgrim, Ozark and Tanglewood.
Founder and CEO of Banjos Direct, Simon Middleton, is frontman of English-Americana band The Proposition, whose debut album 'King Snake Devil Shake' was released this year. Middleton is also the author of several books on marketing and branding, including 'Build A Brand In 30 Days' and the new guide to personal reinvention 'Brand New You'.
Find Banjos Direct at http://www.banjosdirect.co.uk
Email: info(at)banjosdirect.co(dot)uk
Phone: +44 (0) 1603 305800