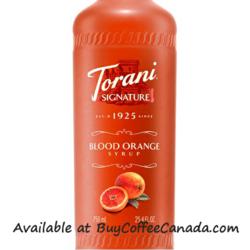 ... those same drinks that you pay anywhere from $3.00-$4.00 for at a cafe are available for less than a dollar per serving at home
Toronto, Ontario (PRWEB) April 15, 2013
Torani's new line of "Signature Syrups" are now available from BuyCoffeeCanada.com - these flavouring syrups are made with more natural ingredients than the standard product line, having removed the preservatives and artificial colouring from the ingredients.
The carefully crafted syrups with all-natural flavours and colours come at a slightly higher price than standard syrups, but the difference is well worth the price in terms of flavour and aroma. Actually, the aroma promises to entice as much as the flavours themselves. All of Torani's decades of experience in the beverage flavouring industry shines through these re-formulated products to deliver brighter, crisper flavours that just might leave you wanting more. Sugar-free variations are not currently available.
Currently available are the:

Blood Orange Signature Syrup
Caramel Signature Syrup
Hazelnut Signature Syrup
Irish Cream Signature Syrup
Lime Signature Syrup
Raspberry Signature Syrup
Strawberry Signature Syrup
Vanilla Signature Syrup
The fruit flavours arrive just in time for summer - or "Italian Soda Weather". Combining the fruit-flavoured syrups with mineral or sparkling water in a glass full of ice has become popular at coffee shops - and now those same drinks that you pay anywhere from $3.00-$4.00 for at a cafe are available for less than a dollar per serving at home.