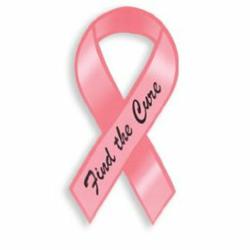 Edison, NJ (PRWEB) October 16, 2012
BuyDig.com, the Internet's Digital Superstore, is proud to announce the beginning of its "Buy Pink, Save Lives" campaign. From October 15 until October 31, 2012, 5% of all proceeds from select pink items will go to support the American Cancer Society. BuyDig hopes to help ensure funding that will help provide earlier detection, better treatment, and more long-term survival to women afflicted by breast cancer.
BuyDig is aware of the hardships and tragedies families face when a mother, sister, wife, or daughter is stricken with breast cancer. As a company, BuyDig does its best to help contribute to research, treatment, and support for these women and their families. In order to continue its commitment to helping end the scourge of cancer, each October BuyDig pledges part of its proceeds to charities dedicated to providing services that lighten the load and increase the survival rates for women with breast cancer.
In addition to providing support for charities, BuyDig does its best to provide education and information on the latest treatments for cancer and latest developments in detection technology through the BuyDig Blog. While focusing on general consumer technology, the BuyDig Blog also covers topics pertaining to medical technology and innovations in the field of cancer detection and treatment.
Finally, in the hopes of helping all of its customers to maintain healthy, fit lifestyles, BuyDig offers great prices on equipment aimed at the goal of healthy living. Their selection includes heart rate monitors, pedometers and scales, and many other personal health care items which can be found in their healthcare products selection.
About BuyDig:
BuyDig.com is a family-owned and operated online retailer based in Edison, New Jersey. Founded in 1983 under its parent company, Beach Trading Co. Specializing in selling digital cameras, electronics, computers, tablets, audio/video, home and garden, kitchenware and more, BuyDig has worked to become the internet's #1 electronics superstore. BuyDig partners with many of the major CE manufacturers such as Canon, Samsung, Sony, HP, SanDisk, Garmin, Pyle, and Toshiba to make consumer technology and electronics affordable and available to the widest market possible. BuyDig also offers free shipping on most products as well as a 45-day return policy on items purchased from their store. By combining legendary customer service with a philosophy of providing more for less, BuyDig.com has earned its reputation as the premier destination for consumer electronics.