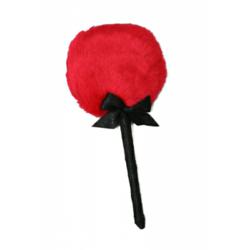 a product designed specifically to reduce the shine of synthetic hair
(PRWEB UK) 24 May 2012
As the price of human hair continues to soar due to high demand, more people, including celebrities, are opting for Synthetic Extensions.
Synthetic hair has vastly improved in recent years, with some wigs and extensions resisting temperatures up to 230°C, allowing for heat styling using hairdryers and hair straighteners.
Though synthetic hair has improved, one of the biggest concerns amongst consumers is its often fake and unnatural shine. After receiving many enquiries from customers, BuyHair.co.uk began searching for a solution to shiny synthetic hair. It didn't take long to discover Jon Renau's hair wand, a product designed specifically to reduce the shine of synthetic hair. The wand contains a hypoallergenic, lightly scented mattifying powder which quickly and easily removes unwanted shine.
Synthetic hair extensions and products are often much cheaper than their human hair equivalent. To give an example of the price, BuyHair.co.uk offers a set of 18" Synthetic Heat Resistant Clip In Hair Extensions for £49.99 and a set of 18" Human Clip In Hair Extensions for £84.14. This means that you could save almost £35 by opting for synthetic, and still receive hair that looks natural.
Popular products sold within the synthetic hair range from BuyHair.co.uk include One Piece Clip In Hair Extensions. They can be applied in minutes to give the hair amazing length and volume. Go to the Synthetic Hair page to view the great range of one piece hair extensions, including the Brigette 3 Quarter Piece, famously worn by Desperate Scousewives star, Jodie Lundstram.
The Mattifying Wand is available from BuyHair.co.uk for only £5.28, and can be used on up to 3 full sets of hair extensions, hair pieces or wigs. Visit BuyHair.co.uk for more information on the Mattifying Wand and other synthetic hair products.