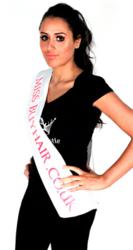 Raising money for The Sunshine Fund, a charity that aims to enhance the lives of local disabled children
(PRWEB UK) 24 April 2012
Hair Extensions website BuyHair.co.uk is the sponsor of stunning 20-year-old Miss Newcastle finalist, Marnie Simpson. Miss Newcastle is a regional heat of Miss England. The competition not only promotes beauty and talent, but it helps raise a huge amount of money for local and national charities.
BuyHair.co.uk is a website that distributes high quality hair extensions, wigs and hair products across the UK and internationally. The company is based in the North-East of England, where the Miss Newcastle competition is held annually.
BuyHair.co.uk has provided their sponsor, Marnie, with industry leading hair products to help to achieve her potential at the Miss Newcastle Finals, which will take place on Friday 18th May 2012. The company is one of many in the region helping to sponsor the event, raising money for The Sunshine Fund, a charity that aims to enhance the lives of local disabled children and their families through the provision of essential equipment, learning aids and custom built apparatus.
Each year Miss Newcastle adopts a theme, which is reflected in costumes and promotional activity used throughout the competition. This year's theme is the Olympics, which will see the finalists represent Great Britain from head to toe with fashion accessories such as Union Jack Lip Tattoos and Union Jack Contact Lenses.
With the Olympics taking place in London and Queen Elizabeth celebrating her 60th year on the throne, 2012 definitely makes us proud to be British. BuyHair.co.uk is celebrating 2012 by offering limited edition Union Jack products, wigs and hair extensions, which can be viewed at http://www.buyhair.co.uk