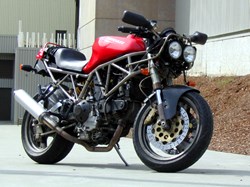 The guide provides clear, step by step guidance on what things to look out for when purchasing a bike
(PRWEB UK) 3 August 2013
Tiger.co.uk has announced today that it has published a guide to buying a motorbike. The guide provides clear, step by step guidance on what things to look out for when purchasing a bike from the appearance of the vehicle, documentation and mechanical issues at the point of viewing, through to how to make the purchase. The guide is targeted at both novice riders and more experienced riders who are looking to buy a new or used motorbike and aims to help potential buyers to make an informed decision about the condition a motorbike is in.
With the bike season in full swing in the U.K Tiger.co.uk have been reporting higher volumes of quotes for standard bike insurance and temporary motorbike insurance. Temporary bike insurance can be a good option for motorcyclists who bring their motorbikes out of the garage for the summer season when the road conditions are typically better for riding. Those who do that must be aware that they need to complete a Statutory Off Road Notification (SORN) for when the bike is off road and not in use.
The guide has been published at the peak of the biking season as it could be useful to both riders who already have a bike and simply want to run some checks prior to a ride out and those who are new to motorbikes and considering buying one. It advises on mechanical points to look out for such as the condition of the brakes, suspension, chain and tyres and offers detailed guidance on how to evaluate each point. For those who are buying it also details the documentation that the seller should make available to you when you go to view the vehicle.
Andrew Goulborn, Commercial Director at Tiger.co.uk commented: "The addition of a guide to buying a motorbike is part of our continued commitment to offer our shoppers more than just the ability to compare car insurance quotes. Our motorbike insurance panel is growing and now features 38 quality insurance partners for our shoppers to choose from. Having listened to shopper feedback we thought that this type of additional information would be welcomed. Visitors to the site can access all of this under the '"Info" area of the site, which is linked at the top right of the homepage."
About Tiger.co.uk:
Tiger.co.uk is a trading name of Call Connection Ltd. Tiger.co.uk is a UK based, independent price comparison site, offering bike, van and car insurance quotes from over 150 motor insurance brands from its website: http://www.tiger.co.uk. Call Connection Ltd is authorised and regulated by the Financial Services Authority (number 308374).