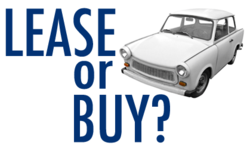 The hard part is there are so many variables to consider when deciding, it's really difficult to make a final choice.
El Segundo, CA (PRWEB) June 08, 2013
While consumers often compare the relative value and costs of renting versus buying, they often don't make the same considerations when making another major purchase: A new car. But like renting or buying, personal finance site GoBankingRates.com explains there are costs and advantages of both, and car shoppers should compare to make informed financial decisions.
And according to data from Experian Automotive, consumers are starting to see more "pros" for car leasing over buying; a record 27.5 percent of new cars financed in Q1 2013 were leased, up 24.4 percent from the previous year.
"The hard part is there are so many variables to consider when deciding, it's really difficult to make a final choice," points out GoBankingRates expert contributor, Stacey Bumpus. "It's good to know, however, that there are benefits to taking either route."
In its new guide to choosing between leasing or buying a car, GoBankingRates explains the difference between these options and provides guidelines to help consumers weigh the two options against their current situation to find the best fit:
See the car leasing vs. car buying flowchart here: http://www.gobankingrates.com/auto-loans/the-real-difference-between-leasing-and-buying/
The GoBankingRates guide contrasts the costs of buying a car against leasing, and finds that leasing is often the cheaper option, at least in the short-term. According to an analysis from CarsDirect, a new car will cost the buyer $11,736 over the first year of the auto loan, while leasing costs nearly $5,000 less annually at $7,000, including interest, tax and other fees.
For questions about this report or to speak with a GoBankingRates editor, please use the contact information below.
About GoBankingRates
GoBankingRates.com is a national website dedicated to connecting readers with the best interest rates on financial services nationwide, as well as informative personal finance content, news and tools. GoBankingRates collects interest rate information from more than 4,000 U.S. banks and credit unions, making it the only online rates aggregator with the ability to provide the most comprehensive and authentic local interest rate information.
Additionally, GoBankingRates.com partners with a number of major media outlets such as Business Insider and US News & World Report to provide compelling and edifying personal finance content. Its expert editors have been featured and quoted on several premier finance websites like Yahoo! Finance, Forbes, The Street, Huffington Post and more.
Contact:
Jaime Catmull, Director of Public Relations
GoBankingRates.com
JaimeC(@)GoBankingRates(dot)com
310.297.9233 x261
###
Sources:
Experian Automotive, "Experian Automotive: 30- and 60-day delinquencies and repossessions increase but remain below recession-level highs," 14 May 2013.
Cars Direct, "Average Car Lease Prices: Reference Points for Judging Good Deals," 27 January 2013.