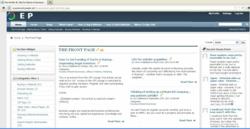 Our forum is the single largest source of unbiased information on buying and selling online businesses.
Southgate, London (PRWEB) April 11, 2012
Experienced-People.net is merging with the business forum FlippingPlanet.com, consolidating its position as the premier one-stop shop for entrepreneurs wishing to discuss – and learn about – buying and selling online businesses.
The non-profit forum at Experienced-People.net is where buyers, sellers, brokers, and other professionals congregate to exchange ideas, share knowledge of current industry practices, and make business contacts. The only other comparable location of note was at FlippingPlanet.com, a community focused upon flipping (purchase—improvement—resale) of online businesses. In April 2012, the two forums will merge at Experienced-People.net to create a unified resource for entrepreneurs seeking to sell their businesses, for investors looking to make acquisitions, and for business professionals to learn about opportunities in buying, selling, and improving websites, blogs and other online properties.
Clinton Lee, owner of the Experienced-People.net forum, explains: "When we started Experienced-People.net as a non-profit forum a little over two years ago, it quickly became the single largest concentration of professionals on website purchasing, sales, and improvement. Our members cover the whole world and the whole gamut of online business expertise.
"Our competitors either shut down or gradually faded away. FlippingPlanet.com remained the only other discerning forum with intelligent discourse built around this subject. This content and community is now being merged into Experienced-People.net, adding to our already significant body of knowledge."
Lee points out that Internet businesses continue to prosper despite the current bleak global economic climate. Business owners and experienced investors are aware that established online businesses have great value, are resilient enough to survive when local brick and mortar business cannot, and maintain consistent profitability better than offline stores. They also recognize that acquisition of an online business is one of the quickest routes to growth. As a result, interest in buying online businesses is increasing exponentially. Astute owners of high-traffic websites are cashing in on the demand and selling their websites, blogs, mailing lists, apps and other online assets, while even more are entering new markets to expand their reach and capture market share. Experienced-People.net helps them keep abreast of latest developments with their fellow industry leaders.
But what of the less astute newcomers? "They need look no further than Experienced-People.net," says Lee. "Everything the online entrepreneur needs to expand their knowledge is now under one roof, at one web location, for an international audience. This will be of enormous benefit to the industry and all its players.
"And, best of all, it's free to the end user – free to join, and free from advertising and sponsorship. We believe it's the only way to be absolutely sure of unbiased integrity in all our online discussions."
About Experienced-People.net:
The non-profit forums at Experienced-People.net are the single, primary resource for discussion of building, purchase, and sales of online business. It is a spin off from the original information only online business site. Run by volunteers, the site helps entrepreneurs seeking to sell their businesses, investors looking to make acquisitions, business professionals expanding their operations, and those seeking help in understanding available opportunities to make money online. Access to information and astute discussion between experienced businesspeople across global industries is free to registered members, with no charges for premium content. The discussion forums do not even display advertising, so as not to bias discussion and opinion.
Some of the main subjects of discussion at Experienced-People.net:

How to find potential online businesses for acquisition
Conducting due diligence on websites prior to purchase
Valuation of various websites, including ecommerce sites and blogs
The main marketplaces, and how best to use them
Contracts and legal concerns for both buyers and sellers
The best ways to effectively buy or sell an online business
Monetization methods, how websites make money, various online business models
Completing transactions safely, including transfer of virtual property and intellectual property rights
Experienced-People.net was founded in January 2010 and is the premier online community for discussion on buying and selling online businesses.
###