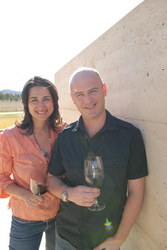 We have been recommending wine to friends and family for many years so it was upon public demand that we decided to channel our passion into a business
Sydney, NSW (PRWEB) October 13, 2008
ByTheDozen.com.au is a brand new website offering unrivalled flexibility when buying wine online. It caters for wine lovers at all levels -- from avid consumers to absolute connoisseurs. It's arguably the most practical, user friendly online wine shop in the country -- it's simple, easy to navigate and uncluttered. By The Dozen have designed 3 easy steps to buying boutique wine online Whether you know what you are looking for or you'd like personalised advice from the team of aficionados, By The Dozen can help.
This neat business idea was dreamed up by Veronica and David Webster, a husband and wife team whose self confessed "healthy wine addiction" was borne out of an obsession for brilliant boutique wine. They have spent much time exploring wine regions, hunting for gems produced by boutique wineries in both Australia and abroad. Their novel wine service caters for every palate, covering everything from a big Barossa Shiraz to a citrus Hunter Semillon or a dry Cotes de Provence French Rose.
From sharing their knowledge and passion for brilliant wine with friends, they were inspired to share their enthusiasm and experience with a wider audience: "We have been recommending wine to friends and family for many years so it was upon public demand that we decided to channel our passion into a business," says David Webster.
By The Dozen has grown entirely by word of mouth, it's had an underground effect. Those in the know have been enjoying their fne wine selections and spreading the word amongst their friends and colleagues. Customers trust their recommendation and appreciate their personal touch and all round commitment to quality service.
As a truly independent wine retailer, each wine in their unique range has been personally selected by David and Veronica to earn the 'brilliant' title. By The Dozen only stocks what they consider to be the best quality representations of each grape varietal across different price points and wine regions of note. This guarantees the perfect wine to suit every palate and budget.
By The Dozen have designed 3 easy steps to customise and buy wine online:
1) Simply select by colour -- white wine, red wine or mixed.
2) Select your favourite variety(ies), and finally
3) Confirm your average bottle price.
Or even simpler, trust the judgement of this dynamic duo and select one of By The Dozen's monthly boutique mixed dozens featuring exciting new wines in a great mix of styles. Either way, you're guaranteed excellent quality wine and great value.
ByTheDozen.com.au also offers other complementary services:
Wine Gifts -- Wine is a perfect gift for any special occasion. By The Dozen has a wide variety of choices in fine wine, boxing, wrapping, ribbons and gift cards.
Corporate Services -- For corporate gifts and functions By The Dozen responds to your brief on wine styles, the volume and budget and delivers the best possible wines delivered the next day.
Wine Tastings & Dinners -- By The Dozen has organised many successful wine tastings and wine dinners that are fun, social and inclusive. They can provide inspiration and advice for your next function.
Building a Cellar -- Based on your personal taste By The Dozen will provide advice on collecting and building your own wine cellar
Private Functions and Events -- Planning a dinner party, function or large event? The team will assist with selecting the perfect line up of wine for the occasion and deliver to your venue on time and budget.
Check out ByTheDozen.com.au for all your wine requirements.
# # #