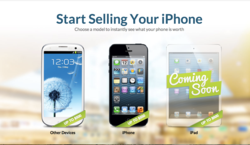 "Online electronics buyback is nothing new," Beauford said. "We just plan to make it better by adding local buyback."
BAKERSFIELD, CALIFORNIA (PRWEB) June 27, 2013
Unused electronic devices can turn from clutter into cash with the new easy-to-use website MyBuyMax.com. The company buys, reconditions, and remarkets smartphones and tablets, such as iPhones and iPads. "Our main goal is to offer the quickest payment methods and highest prices to all sellers," said BuyMax founder Philip Beauford.
Boasting higher buyback rates than most competitors, BuyMax uses a simple three-step process to give sellers cash for their electronic devices quickly. On the website http://MyBuyMax.com, customers first select their device type to obtain a free price quote. Second, the sellers either print a pre-paid USPS shipping label sent to their e-mail, or choose to receive a free shipping kit sent to their address. Third, devices are evaluated by the BuyMax team and funds are dispersed quickly using Paypal, Amazon gift card or Paper check in the mail. "With our onsite Payment Forecaster, sellers can know exactly when they can expect payment," Beauford said.
BuyMax is currently testing a new buyback model with plans to build a network of state and nationwide representatives to allow local cash buyback of devices in existing stores. "Online electronics buyback is nothing new," Beauford said. "We just plan to make it better by adding local buyback." Beginning with their office in Bakersfield, Calif., the company will soon be expanding to its next location in Las Vegas.
BuyMax also takes pride in its environmental impact. "We really do help to keep e-waste out of landfills by helping consumers sell their old iPhone or tablet," Beauford said. "We recondition and/or remarket what we can and responsibly recycle the rest."
About BuyMax:
BuyMax has been in operation since September 2010 as Cash 4 iPhones LLC, offering instant price quotes with free shipping for used smartphones and tablets. The company specializes in fast, trustworthy customer service, including an online payment forecaster that lets sellers know exactly when to expect their payment. To learn more visit http://mybuymax.com or call (888) 503-3168.